Analisis Belanja Modal Di Provinsi Daerah Istimewa Yogyakarta
Dea Tunjungsari

Universitas Ahmad Dahlan

Rifki Khoirudin

Universitas Ahmad Dahlan
Abstract views:
196
,
PDF (Bahasa Indonesia) downloads:
198
Keywords:
Capital expenditures, Local revenue, Population amounts
Abstract
This research was conducted to determine the effect of Local Revenue, General Allocation Funds, Special Allocation Funds, and Population Amounts on Capital Expenditures in the Special Province of Yogyakarta. Law No. 22 of 1999 concerning Regional Government is a juridical basis for regional economic development in Indonesia. The locations in this study are districts and cities in the Special Province of Yogyakarta. Capital expenditure is an output that greatly affects development. Because capital expenditure is a fixed asset and has long-term benefits, it makes capital expenditure a reference for improving development and increasing people's purchasing power. Research data in the form of secondary data. The results of the study show that Regional Original Income and Population Influence on Capital Expenditures in the Special Province of Yogyakarta. While the General Allocation Fund and Special Allocation Funds have no effect on Capital Expenditures in the Special Province of Yogyakarta.
Downloads
Download data is not yet available.
References
Adyatma, E., & Oktaviani, R. M. (2015). Pengaruh Pendapatan Asli Daerah dan Dana Alokasi Umum Terhadap Belanja Modal Dengan Pertumbuhan Ekonomi Sebagai Pemoderasi. Dinamika Akuntansi, Keuangan Dan Perbankan, 4(2).
Askam, T. (2008). PENGARUH DAU, DAK, PAD, DAN PDRB TERHADAP BELANJA MODAL PEMERINTAH DAERAH KABUPATEN/KOTA DI INDONESIA. Jurnal Telaah Dan Riset Akuntansi, 1(2).
Boediono. (1999). Seri sinopsis pengantar ilmu ekonomi no. 2 : Ekonomi Makro. In BPFE.
Boediono. (2014). Seri Sinopsis Pengantar Ilmu EKonomi. BPFE.
Devita Andri, Arman Delis, Junaidi. (2014). Pengaruh Pendapatan Asli Daerah, Pengaruh Pendapatan Asli Daerah, Dana Alokasi Umum dan Jumlah Penduduk terhadap Belanja Daerah Kabupaten/Kota di Provinsi Jambi. Jurnal Perspektif Pembiayaan dan Pembangunan Daerah. 2 (2).
Dinar, & Hasan. (2018). Pengantar Ekonomi: Teori Dan Aplikasi. In CV. Nur Lina (Issue 1980).
Halim, A., & Kusufi, S. (2017). Aplikasi Akuntansi Sektor Publik: Akuntansi Keuangan Daerah. In Akuntansi Sektor Publik : Teori, Konsep dan Aplikasi.
Juniawan, M. A., & Suryantini, N. P. S. (2018). PENGARUH PAD, DAU DAN DAK TERHADAP BELANJA MODAL KOTA DAN KABUPATEN DI PROVINSI BALI. E-Jurnal Manajemen Universitas Udayana, 7(3). https://doi.org/10.24843/ejmunud.2018.v7.i03.p05
Kementerian Keuangan Republik Indonesia. (2010). PP Nomor 71 Tahun 2010. Standar Akuntansi Pemerintahan.
M. Suparmoko. (2002). Ekonomi publik untuk keuangan dan pembangunan daerah. In Monograf.
Mardiasmo. (2018). Otonomi dan Manajemen Keuangan Daerah.
Pelealu, A. (2013). PENGARUH DANA ALOKASI KHUSUS (DAK), DAN PENDAPATAN ASLI DAERAH (PAD) TERHADAP BELANJA MODAL PEMERINTAH KOTA MANADO TAHUN 2003-2012. Jurnal Riset Ekonomi, Manajemen, Bisnis Dan Akuntansi, 1(4). https://doi.org/10.35794/emba.v1i4.2892
Republik Indonesia. (1945). Undang-undang Dasar Negara Republik Indonesia Tahun 1945 (amandemen IV). Wikisource Bahasa Indonesia, Perubahan IV.
RI, D. (1999). Undang Undang Republik Indonesia Nomor 22 Tahun 1999 Tentang Pemerintahan Daerah. UU No. 22 1999, 1.
Todaro, M. P. (2008). Pembangunan Ekonomi (Jilid 1) (Edisi 9). In Edisi Kesembilan terjemahan oleh Haris Munandar dan Puji AL Jakarta: Erlangga.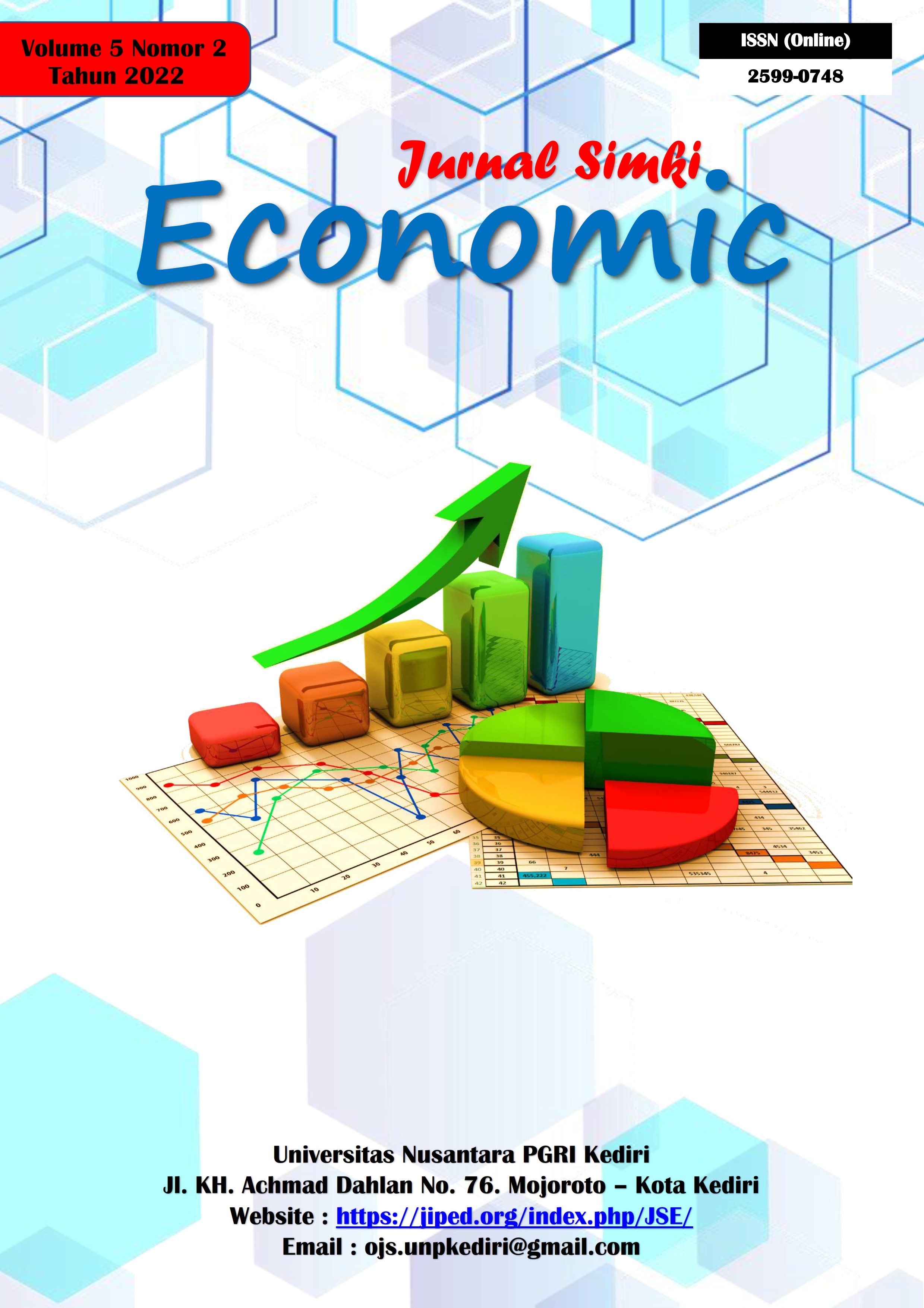 How to Cite
Tunjungsari, D., & Khoirudin, R. (2022). Analisis Belanja Modal Di Provinsi Daerah Istimewa Yogyakarta . Jurnal Simki Economic, 5(2), 124-134. https://doi.org/10.29407/jse.v5i2.147
Copyright (c) 2022 Dea Tunjungsari, Rifki Khoirudin
This work is licensed under a Creative Commons Attribution 4.0 International License.