Pengaruh Pemanfaatan Smartphone Terhadap Hasil Belajar Ekonomi Studi Kasus Pada Masa Pandemi Covid-19 Di SMA Srijaya Negara Palembang
Leman Arahab

Universitas PGRI Palembang

Erma Yulaini

Universitas PGRI Palembang

Nova Pratiwi

Universitas PGRI Palembang
Abstract views:
209
,
PDF (Bahasa Indonesia) downloads:
227
Keywords:
Smartphone utilization, Learning outcomes
Abstract
The problem in this study is whether there is an effect of smartphone use on student learning outcomes at SMA Srijaya Negara Palembang. The purpose of this study was to determine whether there was an influence of smartphones on economic learning outcomes during the COVID-19 pandemic at Srijaya Negara Palembang High School. The research method used is descriptive quantitative method. And for data analysis used is questionnaire data analysis, questionnaire data analysis, normality test, linearity test, simple regression test, calculation of the coefficient of determination and t test with a population of class XI IPS, sampling is done by sampling saturated is a sampling technique if all population members are used as samples. The sample is part of the population that has relatively the same characteristics and is considered to be representative of the population so that as many as 60 students are obtained. Data collection techniques used are questionnaires and documentation. Based on the discussion of the research results, the use of smartphones is categorized as having a good positive impact on students of SMA Srijaya Negara Palembang in the 2021/2022 academic year of 77.12 in the Strong category. Enough". The normality test of the data on the independent variable (x) of smartphone utilization is X2count 20.6 < X2table 90.5. And for the dependent variable (y) learning outcomes are X2count 33.8 < X2table 90.5. the regression equation is = 0.016 + 0.018x "t" test with a significance level = 005/2 = 0.0025 then look for ttable on the t distribution with the provisions db = n-2 = 60-2 = 58 so that tadb = t(0, 05,58) = 2,000 the purpose of comparing ttable with tcount is to find out whether HO is rejected or accepted based on the above test rules, then tcount> ttable is 3.1742>2,000 then Ha is accepted. This means that there is an effect of using a smartphone on the results of case study economics during the COVID-19 pandemic at Srijaya Negara Palembang High School.
Downloads
Download data is not yet available.
References
Asifa, A. L. (2021). Pengaruh Penggunaan Smartphone, Lingkungan Teman Sebaya, Minat Belajar, dan Perhatian Orang Tua terhadap Hasil Belajar Peserta Didik Mata …. In SKRIPSI Mahasiswa UM.
Budiono, F. L. (2015). Persepsi dan Harapan Pengguna terhadap Kualitas Layanan Data pada Smartphone di Jakarta. Buletin Pos Dan Telekomunikasi, 11(2). https://doi.org/10.17933/bpostel.2013.110201
Gardenia, A. (2018). Pengaruh Penggunaan Smartphone Terhadap Prestasi Belajar Mahasiswa Melalui Motivasi Belajar [Universitas Sana Dharma]. https://repository.usd.ac.id/17687/2/131334072_full.pdf
Kemendikbud. (2020). Surat Edaran Kemdikbud Nomor 4 Tahun 2020.
Septyawan, C. (2019). PENGARUH PENGGUNAAN SMARTPHONE TERHADAP PERILAKU KOMUNIKASI SISWA KELAS IX SMPN 3 SUNGGUMINASA [UIN Alauddin]. http://repositori.uin-alauddin.ac.id/14691/1/CHATUR SEPTYAWAN.pdf
Sugiyono. (2015). Metode Penelitian dan Pengembangan Pendekatan Kualitatif, Kuantitatif, dan R&D. In Metode Penelitian dan Pengembangan Pendekatan Kualitatif, Kuantitatif, dan R&D.
Sugiyono. (2017). Metode Penelitian Kuantitatif, Kualitatif dan R&D. Alfabeta.
Suryani, A. I. (2020). MENINGKATKAN HASIL BELAJAR SISWA PADA PELAJARAN BAHASA INGGRIS DI KELAS VII-1 MELALUI PENDEKATAN PEMBELAJARAN CARA BELAJAR SISWA AKTIF DI SMP NEGERI 2 PANCUR BATU TAHUN PELAJARAN 2019/2020. JURNAL PENELITIAN PENDIDIKAN BAHASA DAN SASTRA, 5(1). https://doi.org/10.32696/jp2bs.v5i1.395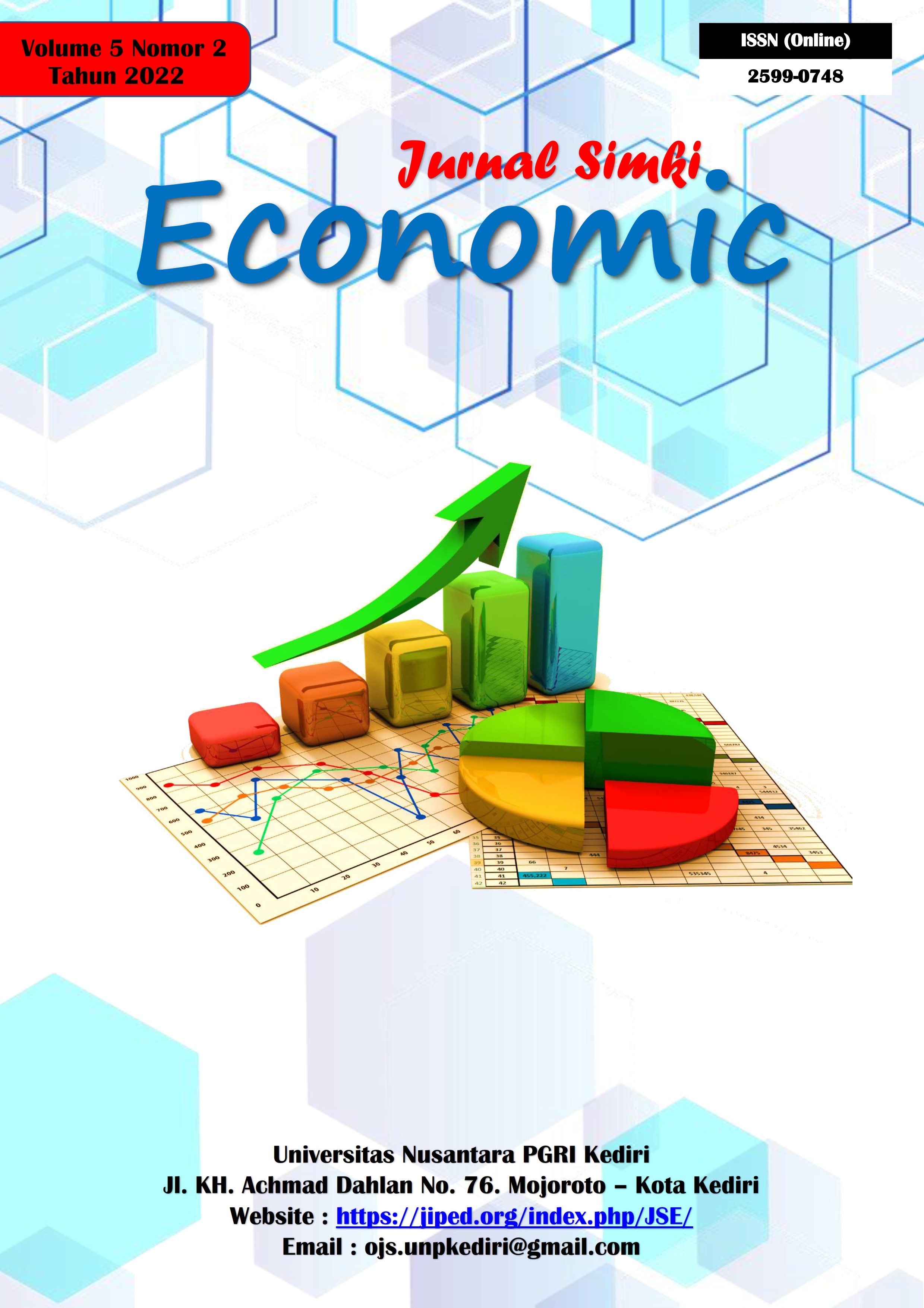 How to Cite
Arahab, L., Yulaini, E., & Pratiwi, N. (2022). Pengaruh Pemanfaatan Smartphone Terhadap Hasil Belajar Ekonomi Studi Kasus Pada Masa Pandemi Covid-19 Di SMA Srijaya Negara Palembang. Jurnal Simki Economic, 5(2), 135-145. https://doi.org/10.29407/jse.v5i2.154
Copyright (c) 2022 Leman Arahab, Erma Yulaini, Nova Pratiwi
This work is licensed under a Creative Commons Attribution 4.0 International License.