Pengaruh Promosi, Kualitas Layanan dan Branding Terhadap Loyalitas Pelanggan Menggunakan Dompet Digital Shopeepay sebagai Metode dan Teknik Pembayaran
Melva Hermayanty Saragih

Universitas Bina Nusantara

Andrew Danielle Prayitta

Universitas Bina Nusantara
Abstract views:
361
,
PDF (Bahasa Indonesia) downloads:
404
Keywords:
Promotion, Service quality, Branding, Customer loyalty
Abstract
This study aims to determine the effect of Promotion, Service Quality, and Branding on customer loyalty using the ShopeePay digital wallet as a payment method and technique. The study used quantitative methods sourced from respondents' questionnaires as the primary source of research. The research population is the ShopeePay digital wallet users in Jakarta and the sample is 106 people as respondents. Through simple regression, the result is that there is a significant effect of the Promotion, Service Quality and Branding variables on the Customer Loyalty variable. Meanwhile, through multiple regression, the result is that there is no significant effect between Promotion and Service Quality on Customer Loyalty, but there is a significant effect between Branding on Customer Loyalty.
Downloads
Download data is not yet available.
References
Aisah, N. (2020). Tren e-Wallet di Indonesia. https://womensobsession.com/detail/867/tren-e-wallet-di-indonesia
Bestari, N. (2022). Pengguna ShopeePay Gagal Top Up, Ini Biang Keroknya. CNBC Indonesia. https://www.cnbcindonesia.com/tech/20210128192512-37-219527/pengguna-shopeepay-gagal-top-up-ini-biang-keroknya.
Christiana, R. (2022). Strategi Shopee dalam Menarik Perhatian Pelanggan. suara.com. https://yoursay.suara.com/news/2019/12/10/131146/strategi-shopee-dalam-menarik-perhatian-pelanggan.
Febianto, MA., & Koesworodjati, Y. (2018), Pengaruh Iklan, Promosi Penjualan, dan Bukti Fisik Terhadap Keputusan Pembelian Pengunjung Kebun Binatang, repository.unpas.ac.id.
Febrianza, R., & Aprileny, I. (2020). Pengaruh Bauran Promosi Terhadap Minat Beli Ulang Pada E-Commerce Shopee (Studi Pengguna Aplikasi Shopee pada Mahasiswa STEI Jakarta)
Indonesia, T. (2022). 3 Strategi ShopeePay Bantu UMKM dalam Digital Marketing - Trendtech Indonesia. Trendtech Indonesia. Retrieved 29 April 2022, from https://trendtech.id/3-strategi-shopeepay-bantu-umkm-dalam-digital-marketing/.
Kotler, P., & Zaltman. G. (1997). Social marketing: An approach to planned social change-Social Marketing Quarterly- journals.sagepub.com.
Kulsum, S., Kanto, DS., & Bross, N. (2021). How Brand Equity Can Saves Its Company? A Study of One of the Largest E-Commerce in Indonesia. papers.ssrn.com.
Pusparani, P., & Rastini, N. (2014). PENGARUH KUALITAS PRODUK DAN BRAND IMAGE TERHADAP KEPUASAN KONSUMEN DAN LOYALITAS PELANGGAN KAMERA CANON DIGITAL SINGLE LENS REFLEX (DSLR) DI KOTA DENPASAR. E-Jurnal Manajemen, 3(5). Retrieved from https://ojs.unud.ac.id/index.php/manajemen/article/view/7629
Rachmanta, R. D. (2021). Terdapat Kendala di Sistem, Pengguna Shopee Keluhkan Masalah Ini - HiTekno.com.https://www.hitekno.com/internet/2021/12/02/161608/terdapat-kendala-di-sistem-pengguna-shopee-keluhkan-masalah-ini
Shartykarini, S., Firdaus, M. R., & . R. (2016). Pengaruh Harga, Kualitas Produk dan Kualitas Layanan terhadap Kepuasan Pelanggan dalam Membentuk Loyalitas Pelanggan (Studi Pengunjung Cafe di Banjarbaru). JWM (Jurnal Wawasan Manajemen), 4(1), 39–52. https://doi.org/10.20527/JWM.V4I1.76
Shendy Cavilessi, M. (2022). Pengaruh Promosi dan Kepercayaan Konsumen Pada Loyalitas Pengguna Fintech (Layanan Transaksi Online). Lib.unnes.ac.id. Retrieved 29 April 2022, from http://lib.unnes.ac.id/47023/.
Shukla, S., and Chirag, M. (2017). Digital Payments in India. Journal of Business and Management Volume 9 Hal 28-33.
Tjahjaningsih, E. (2016). Pengaruh Citra Dan Promosi Terhadap Kepuasan Pelanggan Serta Dampaknya Terhadap Loyalitas Pelanggan (Studi Pada Pelanggan Supermarket Carrefour Di Semarang. Media Ekonomi dan Manajemen. http://dx.doi.org/10.24856/mem.v28i2.207
Tjiptono, F (2005). Perpektif manajemen dan pemasaran kontemporer, Andi offiset Yogyakarta
Valencia, D., & Layman, C. (2021). E-WALLET SERVICE INNOVATION, SERVICE DELIVERY, AND CUSTOMER SATISFACTION ON CUSTOMER LOYALTY WITHIN SHOPEEPAY IN INDONESIA. Ultima Management : Jurnal Ilmu Manajemen, 13(1), 23-46. https://doi.org/https://doi.org/10.31937/manajemen.v13i1.1929
Wahyuni, S. (2021). Strategi Bussiness Model Canvas (BMC) Bagi Pelaku Usaha Samarinda Dalam Upaya Pengembangan Brand Dan Digitalisasi Produk. Jurnal Pustaka Mitra (Pusat Akses Kajian Mengabdi Terhadap Masyarakat), 1(2), 81–86. Diambil dari https://jurnal.pustakagalerimandiri.co.id/index.php/pustakamitra/article/view/13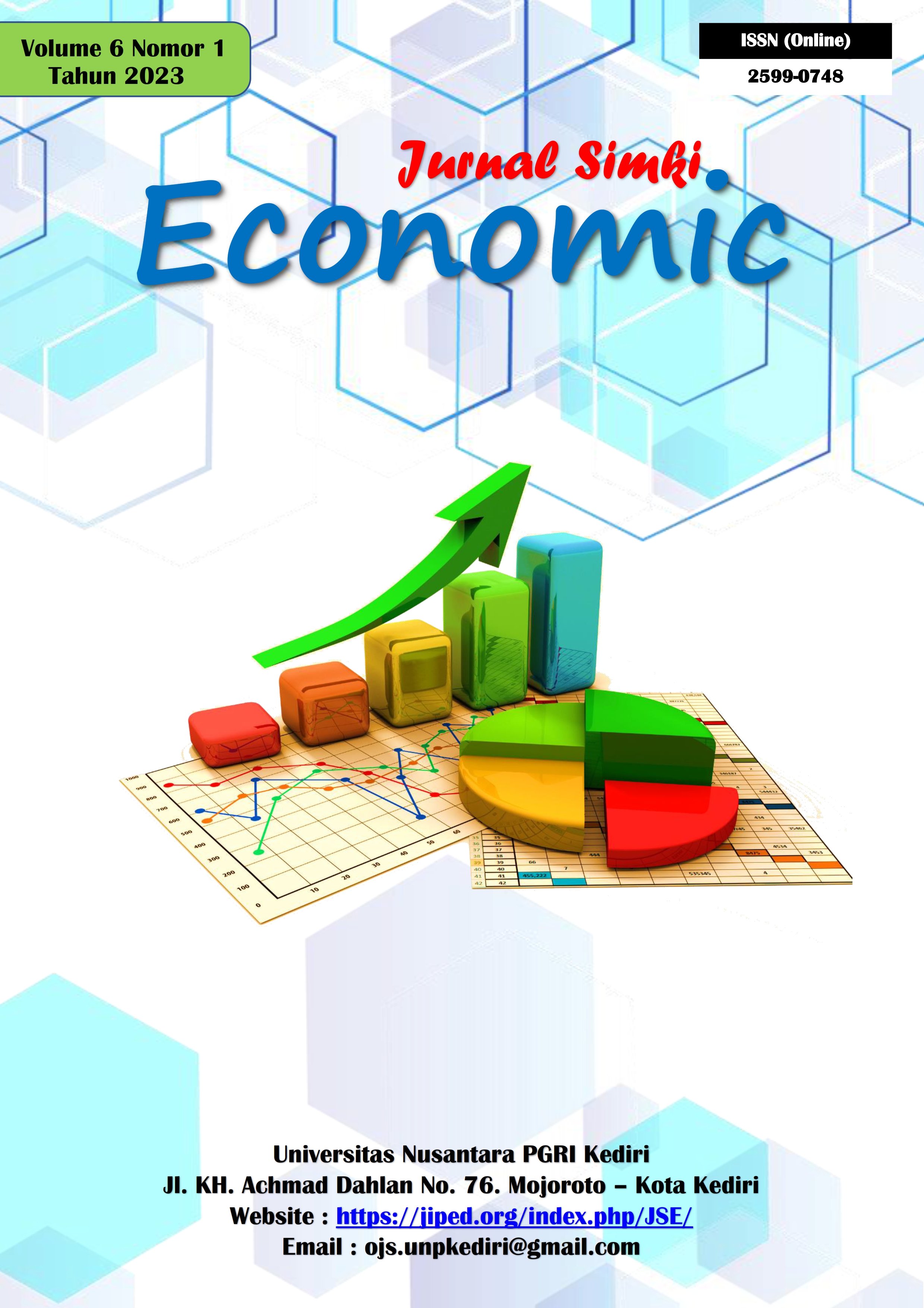 How to Cite
Saragih, M. H., & Prayitta, A. D. (2023). Pengaruh Promosi, Kualitas Layanan dan Branding Terhadap Loyalitas Pelanggan Menggunakan Dompet Digital Shopeepay sebagai Metode dan Teknik Pembayaran. Jurnal Simki Economic, 6(1), 19-30. https://doi.org/10.29407/jse.v6i1.156
Copyright (c) 2023 Melva Hermayanty Saragih, Andrew Danielle Prayitta
This work is licensed under a Creative Commons Attribution 4.0 International License.