Implementasi Pemahaman Standar Akuntansi Keuangan Entitas Mikro, Kecil dan Menengah Bagi Pelaku UMKM Di Kabupaten Purbalingga
Aning Fitriana

Universitas Perwira Purbalingga
Abstract views:
171
,
PDF (Bahasa Indonesia) downloads:
198
Keywords:
UMKM, SAK EMKM, Financial Statement
Abstract
This aims of this research is to provide evidence regarding the implementation of SAK EMKM. This research is a qualitative descriptive research,the data collected  through questionnaires. The object of the research is the MSME business actors in Purbalingga district as a provider of accounting information as many as 100 respondents. The purpose of the research is to describe and analyze the understanding of MSME actors on the implementation of Financial Accounting Standards for Micro, Small and Medium Entities (SAK EMKM) in Purbalingga district. The results of this study indicate that business actors quite agree with the application of SAK EMKM to reports, business actors do not fully know SAK EMKM, and the use of accounting information in financial statements is still low.
Downloads
Download data is not yet available.
References
Dewi, J. (2017). Penyusunan Laporan Keuangan UMKM Berdasarkan Standar Akuntansi Keuangan Entitas Mikro, Kecil dan Menengah (SAK-EMKM) (Study Kasus di UMKM Bintang Malam Pekalongan). Riset & Jurnal Akuntansi, 2(1), 11–17.
Diajeng A Z Rachmanti, H., & Andrianto. (2019). Analisis Penyusunan Laporan Keuangan UMKM Batik Jumput Dahlia Berdasarkan SAK-EMKM. Jurnal Balance, 16(1).
Ghozali, I. (2018). Aplikasi Analisis Multivariate dengan Program IBM SPSS (9th ed.). Badan Penerbit Universitas Diponegoro.
Hetika, N. M. (2017). Penerapan Akuntansi dan Kesesuaiannya Dengan SAK ETAP Pada UMKM Kota Tegal. Jurnal Akuntansi, Ekonomi Dan Manajemen Bisnis, 5(2), 259–266
Ikatan Akuntansi Indonesia. 2016. Standar Akuntansi Keuangan Entitas Mikro, Kecil, dan Menengah. Jakarta: Dewan Standar Akuntansi Keuangan Ikatan Akuntansi Indonesia.
Pardita, I. W. A., Julianto, I. P., & Kurniawan, P. S. (2019). Pengaruh Tingkat Penerapan Sistem Pencatatan Akuntansi, Tingkat Pemahaman Akuntansi dan Tingkat terhadap Penerapan SAK EMKM pada UMKM Kab. Gianyar. Jurnal Ilmiah Mahasiswa Akuntansi, 10(3), 286–297.
Purwati, A. S., Suparlinah, I., & Putri, N. K. (2018). Analisis Pemahaman Literasi Pelaku UMKM atas Implementasi Standar Akuntansi Keuangan ENtitas Mikro, Kecil dan Menengah (SAK EMKM) di Kabupaten Banyumas. Pengembangan Sumber Daya Pedesaan Dan Kearifan Lokal Berkelanjuta VIII, 73–81.
Rohendi, H. (2019). Analisis Implementasi Penyusunan Laporan Keuangan Entitas Mikro, kecil, dan Menengah (SAK EMKM). Pengembangan Sumber Daya Pedesaan Dan Kearifan Lokal Berkelanjutan IX, 86–98.
Sugiyono. (2007). Metode Penelitian Bisnis. (Cetakan Ke3).Bandung: Alfabeta.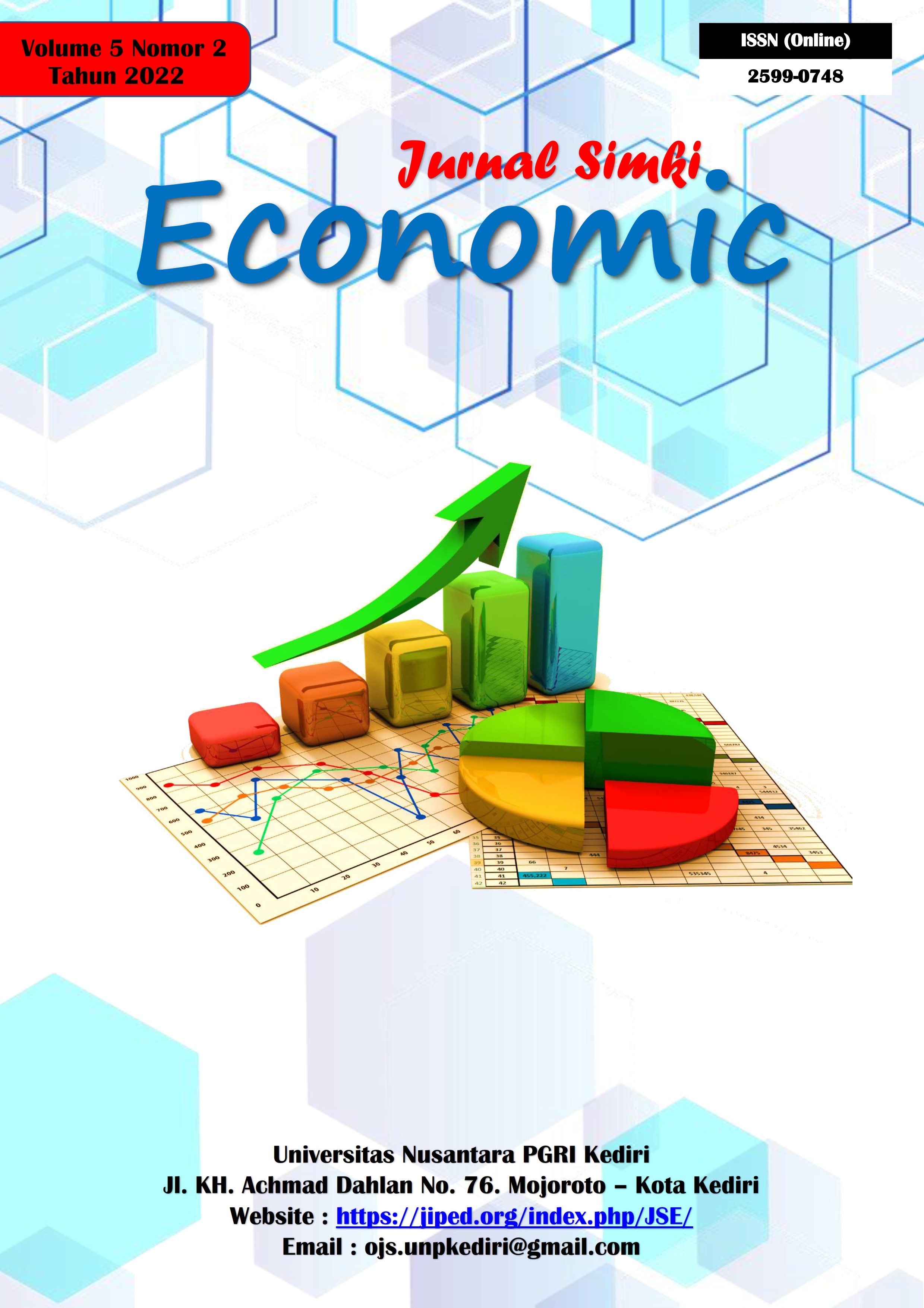 How to Cite
Fitriana, A. (2022). Implementasi Pemahaman Standar Akuntansi Keuangan Entitas Mikro, Kecil dan Menengah Bagi Pelaku UMKM Di Kabupaten Purbalingga. Jurnal Simki Economic, 5(2), 199-207. https://doi.org/10.29407/jse.v5i2.159
Copyright (c) 2022 Aning Fitriana
This work is licensed under a Creative Commons Attribution 4.0 International License.