Literasi Keuangan Syariah dan Tingkat Kepercayaan Masyarakat Petani Bawang Merah Kabupaten Brebes Menjadi Nasabah Bank Syariah
Ahmad Faqih Udin

Institut Agama Islam Bakti Negara Tegal
Abstract views:
105
,
PDF (Bahasa Indonesia) downloads:
202
Keywords:
Literacy, Trust, Islamic Finance, Farmers
Abstract
Islamic financial literacy is a strategic effort to support the government in educating shallot farmers in general to understand Islamic financial products. The purpose of this study is to examine the extent to which the influence of the level of Islamic financial literacy and banking access to Islamic bank financing and its impact. The method in this study uses a quantitative descriptive approach. The data source used is primary data obtained by distributing questionnaires. Respondents taken were residents who work as shallot farmers in the village of Tanjungsari Brebes. The results showed that the different levels of Islamic financial literacy and public trust had no effect on the intention to save in Islamic banks. This gives Islamic banks an indication that the literacy and trust of the shallot farming community influence the intention to save, so Islamic banks must continue to disseminate information to the community, especially the shallot farmers in Wanasari District, Brebes Regency. With the Islamic financial literacy movement both carried out by the Financial Services Authority (OJK) and other financial institutions to find the right solution to accelerate Islamic financial literacy in Brebes district.
Downloads
Download data is not yet available.
References
Adiyanto, M. R., & Purnomo, A. S. D. (2021). Dampak Tingkat Literasi Keuangan Syariah Terhadap Minat Menggunakan Produk Keuangan Syariah. Jurnal Administrasi Kantor, 9(1), 1–12. https://doi.org/10.51211/jak.v9i1.1461
Antonio, M. S. (2000). Bank Islam: Teori dan Praktek. Jakarta: Gema Insani Press.
Bank Indonesia, (2020) "Bersinergi Membangun Ekonomi Dan Keuangan Syariah."
Bungin, B. (2006). Penelitian kualitatif: Komunikasi, Ekonomi, Kebijakan Pulik, dan Ilmu Sosial Lainnya. Jakarta: Kencana.
Butt, I., Saleem, N., Ahmed, H., Altaf, M., Jaffer, K., & Mahmood, J. (2011). Barriers to adoption of Islamic banking in Pakistan. Journal of Islamic Marketing, 2 (3). https://doi.org/10.1108/17590831111164787
Fungáčová, Zuzana. Herrala, Risto. and Weill, Laurent. (2011). The Influence of Bank Ownership on Credit Supply: Evidence from the Recent Financial Crisis. BOFIT Discussion Paper Volume 34, 2011. https://doi.org/10.1016/j.ememar.2013.02.002
Hani Meilita Purnama and Indri Yuliafitri, (2019). "Efektivitas Gerakan Literasi Keuangan Syariah Dalam Mengedukasi Masyarakat Memahami Produk Keuangan Syariah," Banque Syar'i: Jurnal Llmiah Perbankan Syariah 5, no. 1. https://doi.org/10.32678/bs.v5i1.1937
Hegazy, I. (1995). An Empirical Comparative Study Between Islamic And Commercial Banks Selection Criteria In Egypt. International Journal of Commerce and Management. https://doi.org/10.1108/eb047313
Hogarth dkk. (2003). Statiska Inferensial. Jakarta: Raja Grafindo Persada
Ismael Peña-López, (2012). "Pisa 2012 Assessment and Analytical Framework. Mathematics, Reading, Science, Problem Solving and Financial Literacy,". https://doi.org/10.1787/9789264190511-en
Kementerian Pendidikan dan Kebudayaan Republik Indonesia, (2017) "Materi Pendukung Literasi Finansial."
M. Asyhad, Wahyu Agung Handono. (2017). Urgensi Literasi Keuangan Syariah Pada Pendidikan Dasar. Jurnal Studi Islam Volume 13, Nomor 01. https://doi.org/10.33754/miyah.v13i01.124
Maski, G. (2012). Analisis keputusan nasabah menabung: pendekatan komponen dan model logistik studi pada bank syariah di Malang. Journal of Indonesian Applied Economics, 4 (1). https://doi.org/10.21776/ub.JIAE.004.01.5
Mendari, A., & Kewal, S, (2013). Tingkat Literasi Keuangan di Kalangan Mahasiswa STIE MUSI. Jurnal Economika. http://dx.doi.org/10.21831/economia.v9i2.1804
Misbach, Irwan, (2012) Kualitas Layanan Bank Syariah. Makassar: Alauddin University Press.
Nurrohmah, R. F., & Purbayati, R. (2020). Pengaruh Tingkat Literasi Keuangan Syariah dan Kepercayaan Masyarakat Terhadap Minat Menabung di Bank Syariah. Jurnal Maps (Manajemen Perbankan Syariah), 3(2), https://doi.org/10.32627/maps.v3i2.135
Rahmawati. (2012). Teori Akuntansi Keuangan. Yogyakarta: Graha ilmu.
Rahmawaty, A. (2014). Pengaruh Persepsi Tentang Bank Syariah Terhadap Minat Menggunakan Produk Di BNI Syariah. Semarang. Jurnal ADDIN, 8(1). http://dx.doi.org/10.21043/addin.v8i1.587
Salmah Said, Andi Muhammad Ali Amiruddin, (2017). Literasi Keuangan Syariah di Perguruan Tinggi Keagamaan Islam (Studi Kasus UIN Alauddin Makasar). Jurnal Studi Islam Al-Ulum, Vol. 17. No.1. https://doi.org/10.30603/au.v17i1.29
Thambiah, S., Eze, U. C., Santhapparaj, A. J., & Arumugam, K. (2010). Customers' perception on Islamic retail banking: A comparative analysis between the urban and rural regions of Malaysia. International Journal of Business and Management, 6(1). https://doi.org/10.5539/ijbm.v6n1p187.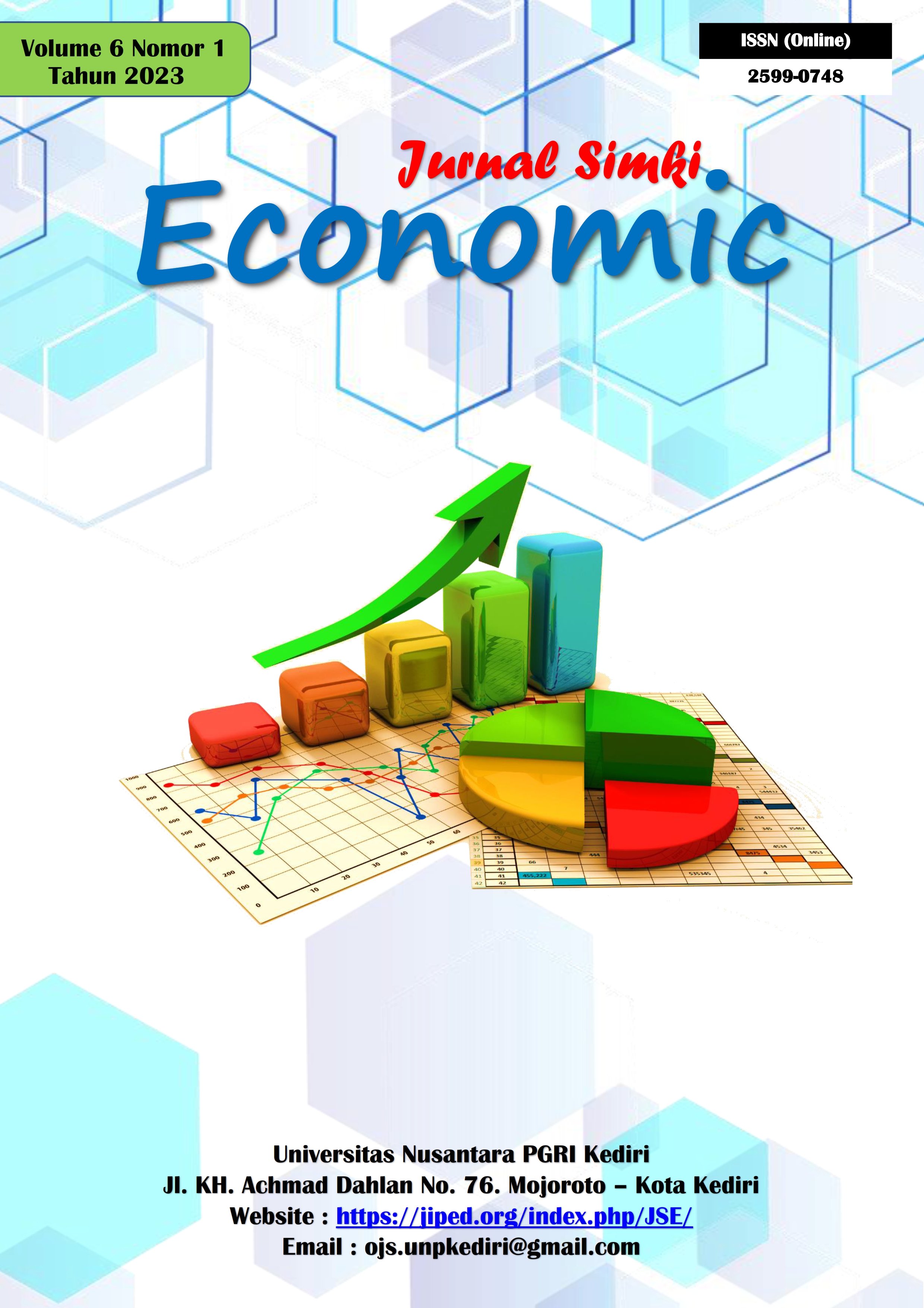 How to Cite
Udin, A. F. (2023). Literasi Keuangan Syariah dan Tingkat Kepercayaan Masyarakat Petani Bawang Merah Kabupaten Brebes Menjadi Nasabah Bank Syariah. Jurnal Simki Economic, 6(1), 246-256. https://doi.org/10.29407/jse.v6i1.162
Copyright (c) 2023 Ahmad Faqih Udin
This work is licensed under a Creative Commons Attribution 4.0 International License.