Pengaruh Komitmen Organisasi dan Kepuasan Kerja Terhadap Kinerja Dosen Swasta di Surabaya
Iswati Iswati

Sekolah Tinggi Ilmu Ekonomi IBMT

Jimmy Ignatius

Sekolah Tinggi Ilmu Ekonomi IBMT
Abstract views:
31
,
PDF (Bahasa Indonesia) downloads:
33
Keywords:
Organizational commitment, Job satisfaction, Lecturer performance
Abstract
This study examines the Effect of Organizational Commitment on Job Satisfaction and Performance of Foundation Lecturers in Surabaya. In this study a descriptive research approach was used, while the type of sampling used was stratified random sampling involving 122 respondents, all of whom are foundation lecturers who teach in tertiary institutions with a minimum Masters and Doctoral degree and have worked as lecturers for at least 3 years. The location of the research was carried out in Surabaya and researched foundation lecturers. The analysis technique uses validity, reliability, classical assumption tests (including normality, multicollinearity and heteroscedasticity tests), while all hypotheses are tested using multiple linear regression to see the effect of each variable, with the SPSS application. The results of this study include Organizational Commitment has an effect on Job Satisfaction, Organizational Commitment has an effect on Lecturer Performance.
Downloads
Download data is not yet available.
References
Ariati, Jati. (2011) Subjective wellbeing ( Kesejahteraan subjektif ) dan Kepuasan Kerja pada Staf Pengajar (Dosen) di lingkungan Fakultas Psikologi Universitas Diponegoro.
Arikunto, S. (2006). Prosedur Penelitian Suatu Pendekatan Praktik, Jakarta : Rineka Cipta.
Asep Herry, Hernawan. (2008). Pengembangan Kurikulum dan Pembelajaran Universitas Terbuka. Jakarta.
Comm, C.L. Dan Mathaisel, D.F.X. (2003). Sebuah studi kasus tentang implikasi beban kerja fakultas dan kompensasi untuk meningkatkan kualitas akademik. International Journal of Manajemen Pendidikan, Vol. 17 No 4/5, hlm. 200-210.
Yousef, D.A. (2000), Organizational commitment: a mediator of the relationships of leadership behavior with job satisfaction and performance in a non‐western country, Journal of Managerial Psychology, Vol. 15 No. 1, pp. 6-24. https://doi.org/10.1108/02683940010305270
David Stephen P. Robbins. (2000). Human Resouces Management Concept and Practies. Jakarta, PT. Preenhalindo
Djam'an Satori, dkk., (2008). Profesi Keguruan, Universitas Terbuka: Jakarta
Ghozali, Imam. (2007). Analisis Multivariate Dengan Program SPSS. Cetakan Empat. Badan Penerbit Universitas diponegoro: Semarang
Ghozali, Imam. (2018) Aplikasi Analisis Multivariate dengan Program SPSS. Semarang: Badan Penerbit Diponegoro.
Hasan, M Iqbal. (2002). Pokok-pokok Materi Statistika 1 (Statistik Deskriptif). Edisi Kedua. PT. Bumi Aksara. Jakarta.
Luthans, Fred. (2006). Perilaku organisasi. Edisi 10. Yogyakarta: Andi
Mathis, Robert L. dan John H. Jackson. (2012). Manajemen Sumber Daya Manusia, Edisi Pertama Salemba Empat. Jakarta
Meirio, Gevin, Putra Riandika and Macasin. (2015). Pengaruh Komitmen dan Motivasi Terhadap Kemampuan Kinerja Dosen. Jurnal Tepak Manajemen Bisnis (Jurnal Manajemen dan Bisnis). https://jtmb.ejournal.unri.ac.id/index.php/JTMB/article/view/2657
Nasution M. N, (2010). Manajemen Mutu Perpadu (Total Quality Management). Ghalia Indonesia: Jakarta
Nur'Aeni. (2011). Pengaruh Motivasi, Kompetensi dan Komitmen Terhadap Kinerja dosen Perguruan Tinggi Swasta di Kopertis Wilayah II Palembang." Jurnal Manajemen dan Bisnis, 101-129. http://dx.doi.org/10.36448/jmb.v1i2.39
Rachmawati, Titik dan Daryanto. (2013). Penilaian Kinerja Profesi Guru dan Angka Kreditnya. Yogyakarta: Penerbit Gava Media.
Respatiningsih, Ida, and Frans Sudirjo. (2015). Pengaruh Komitmen Organisasi, Motivasi, Kapabilitas dan kepuasan Kerja Terhadap Kinerja Pegawai. Serat Acitya-Jurnal Ilmiah UNTAG Semarang. http://dx.doi.org/10.56444/sa.v4i3.162
Rivai. (2004). Manajemen Sumber Daya Manusia Untuk Perusahaan. Cetakan Pertama. PT. Raja Grafindo: Jakarta.
Sugiyono. (2014). Metode Penelitian Kuantitatif, Kualitatif, dan Kombinasi (Mixed Methods). Bandung: Alfabeta
Suryosubroto, (2009). Proses Belajat Mengajar di Sekolah. Jakarta: PT. Rineka
Wijaya, Tony, Manajemen Kualitas Jasa, Jakarta: PT Indeks Cipta.
Wood, Jack M, Et al, (2001). Organizational Behaviour: A Global Perspektive 2nd Editon Australia: Jonh Wiley and Sons Australia, Ltd.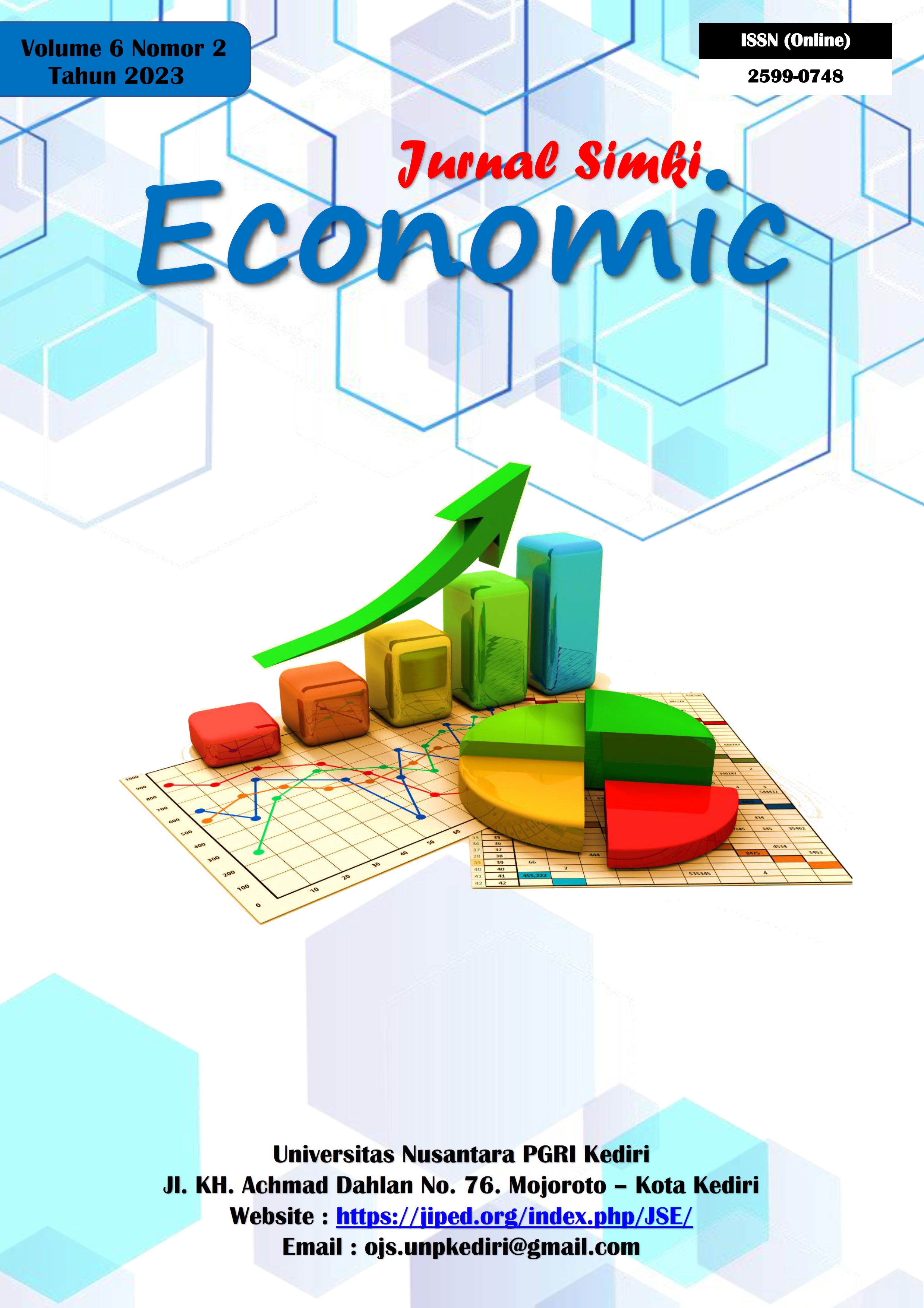 How to Cite
Iswati, I., & Ignatius, J. (2023). Pengaruh Komitmen Organisasi dan Kepuasan Kerja Terhadap Kinerja Dosen Swasta di Surabaya. Jurnal Simki Economic, 6(2), 279-287. https://doi.org/10.29407/jse.v6i2.278
Copyright (c) 2023 Iswati, Jimmy Ignatius
This work is licensed under a Creative Commons Attribution 4.0 International License.