Evaluasi Waktu Tunggu di Loket Pendaftaran BPJS Rumah Sakit Al Islam Bandung
Aditya Aditya

Universitas Teknologi Digital

Eka Purwanda

Universitas Teknologi Digital
Abstract views:
95
,
PDF (Bahasa Indonesia) downloads:
60
Keywords:
Waiting time, Queue, Hospital
Abstract
This study aims to find out how long the waiting time is required for BPJS patients who will register at Counter A of BPJS Al Islam Hospital Registration. This type of research is descriptive quantitative with data sources taken by the observation method or observations made in two days. From the calculations that have been done, if the BPJS registration counter opens the registration counter, it will be 2. So, the probability of an empty system is 0.49. Then, the average patient in the queue is 0.77 people per hour. The average patient waiting time was 0.08 people per hour, the average time spent in the system was 5.1 minutes and the average time spent by patients in the queue was 0.54 minutes. The results of this study indicate that Counter A BPJS Registration is still not optimal in serving patients who will register and also patients need a long time to wait in line.
Downloads
Download data is not yet available.
References
Ekoanindiyo, F. A. (2011). Pemodelan Sistem Antrian Dengan Menggunakan Simulasi. Dinamika Teknik Industri. https://www.unisbank.ac.id/ojs/index.php/ft1/article/view/1129
Fitri, H. M., & Hidayati, M. (2021). Pengaruh Lama Waktu Tunggu Pendaftaran Terhadap Kepuasan Pasien di Puskesmas Waringinkurung. Cerdika: Jurnal Ilmiah Indonesia. https://doi.org/10.59141/cerdika.v1i12.262
Heizer, J., Reder, B., & Muson, C. (2016). Operations Management: Sustainability and Supply Chain Management JAY.
Kusumah, I. (2017). Analisis Sistem Antrian Untuk Optimasi Layanan Loket Pendaftaran Pada Rumah Sakit Cicendo Bandung (Doctoral dissertation, STIE Ekuitas). http://repository.ekuitas.ac.id/handle/123456789/283
Nisak, U. K., Cholifah, C., & Aditiawardana, A. (2020). Evaluasi Aplikasi Pengolah Data Unit Hemodiolisis Rumah Sakit Di Jawa Timur. Prosiding" Penguatan Pendidikan Tenaga Kesehatan di Era Industri 4.0". http://eprints.umsida.ac.id/6717/
Peraturan Menteri Kesehatan Republik Indonesia No.1205/Menkes/SK/X/2004 tentang Persyaratan Kesehatan Lingkungan Rumah Sakit
Pono, M. (2018). Analisis Kinerja Sistem Antrian dalam Mengoptimalkan Pelayanan Pasien Rawat Jalan di RSUD Haji Makassar. JBMI (Jurnal Bisnis, Manajemen, dan Informatika). https://doi.org/10.26487/jbmi.v14i3.3333
Sabarguna, B. S. (2009). Manajemen Rumah Sakit. Jakarta: Sagung Seto.
Siagian, D. (2000). Metode statistika untuk bisnis dan ekonomi. Gramedia Pustaka Utama.
Syaifullah. (2010). Analisis Sistem Antrian Guna Meningkatkan Efektivitas Pelayanan Pada Rumah Sakit Islam Ibnu Sina Pekanbaru. https://repository.uin-suska.ac.id/11791/
Undang-Undang Republik Indonesia No.44 Tahun 2009
Wahyuningtias, R., Ispriyanti, D., & Sugito, S. (2013). Analisis Antrian Pasien Instalasi Rawat Jalan RSUP Dr. Kariadi Bagian Poliklinik, Laboratorium, dan Apotek. Jurnal Gaussian, 2(4), 369 - 374. https://doi.org/10.14710/j.gauss.2.4.369 - 374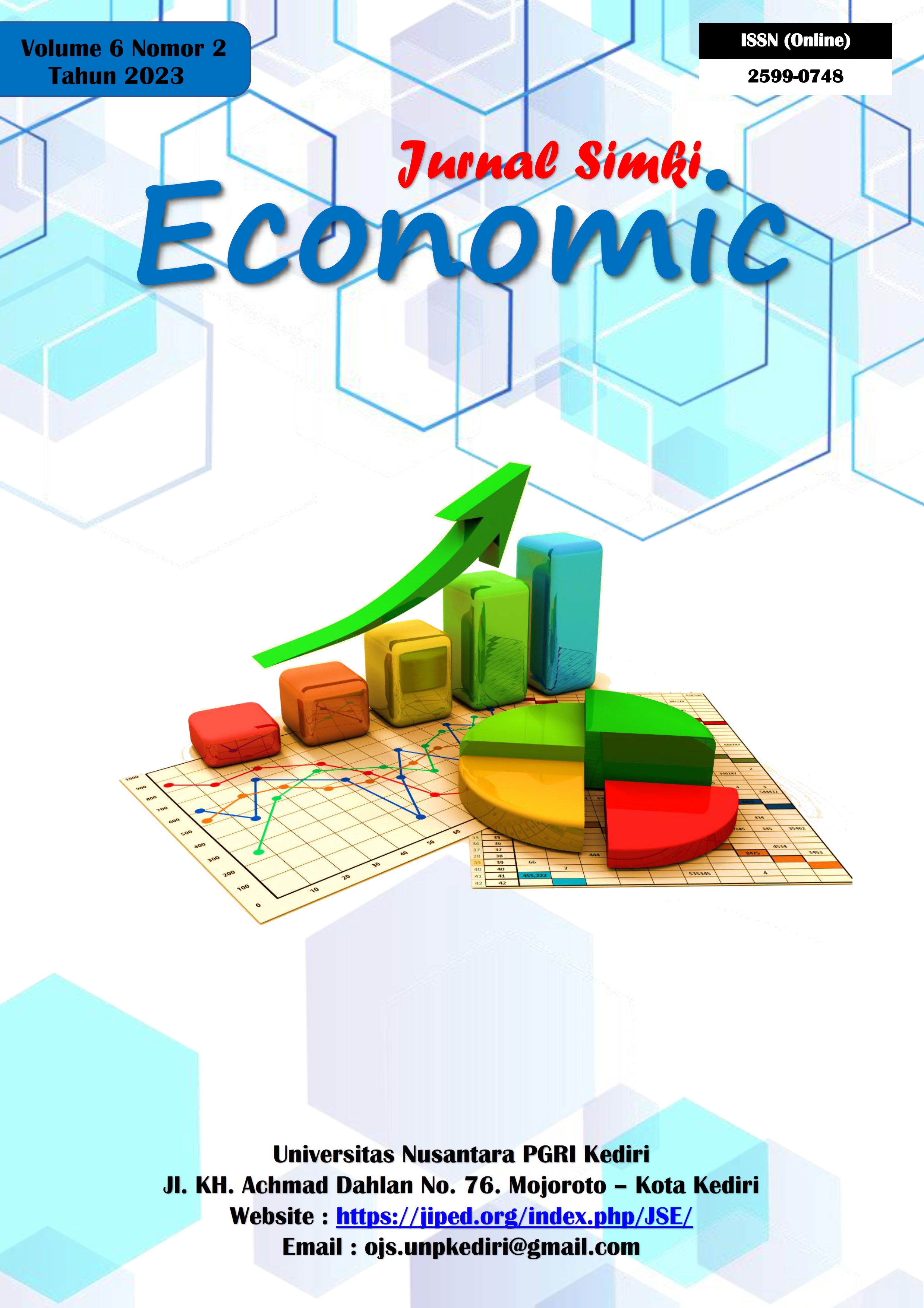 How to Cite
Aditya, A., & Purwanda, E. (2023). Evaluasi Waktu Tunggu di Loket Pendaftaran BPJS Rumah Sakit Al Islam Bandung. Jurnal Simki Economic, 6(2), 441-451. https://doi.org/10.29407/jse.v6i2.351
Copyright (c) 2023 Aditya, Eka Purwanda
This work is licensed under a Creative Commons Attribution 4.0 International License.