Peningkatan Daya Saing Toko Bangunan Sumber Rejeki Kabupaten Blitar Melalui Strategi Pemasaran Berbasis Analisis SWOT
Nabilatul Badi'ati

Universitas Nusantara PGRI Kediri

Zulistiani Zulistiani

Universitas Nusantara PGRI Kediri
Abstract views:
70
,
PDF (Bahasa Indonesia) downloads:
107
Keywords:
Competitiveness, Marketing Strategy, SWOT
Abstract
Sumber Rejeki Building Store is a trading company engaged in retail by selling various kinds of building materials such as cement, paint, nails, iron and so on. The purpose of this study was to analyze the internal and external environment of the Sumber Rejeki building store and to find out the marketing strategy that should be implemented in order to increase competitiveness. This study uses a type of qualitative research with SWOT analysis techniques. Collecting data in this study using observation techniques, interviews, and documentation. The results of the study show that in the SWOT diagram the Sumber Rejeki building store is in quadrant I, which means that this company has the strength to take of existing opportunities, so the marketing strategy that should be used to increase competitiveness is the SO (Strengths-Opportunities) strategy by carrying out several strategies such as maintaining and improving product quality and good service to consumers, building a special place for building design consulting services, offering discounts or gifts with a certain purchase amount especially to customers who have frequently shopped at the store, and updating the latest products so that they continue to grow and dominate market share.
Downloads
Download data is not yet available.
References
Cahyo, B. D., Sari, M. I., & Hermawan, H. (2023). Analisis SWOT untuk Pemasaran di Toko Bangunan Bima Jaya. Jurnal Ekonomi dan Bisnis GROWTH, 4(1). https://doi.org/10.36841/growth-journal.v21i1.2136
Hidayat, R., & Setyawan, I. (2021). Strategi Bauran Pemasaran Menggunakan Pendekatan Analisis SWOT pada UD. Erni Jaya Bangunan Kediri. 1(10), 1–23. https://garuda.kemdikbud.go.id/documents/detail/2290652
Isnaini, H. (2023). Sektor Properti dan Konstruksi Dongkrak Pertumbuhan Industri Bahan Bangunan. Diambil 3 Mei 2023, dari SINDONEWS.com website: https://ekbis.sindonews.com/read/1013619/34/sektor-properti-dan-konstruksi-dongkrak-pertumbuhan-industri-bahan-bangunan-1675425770
Maymanah, S. (2022). Analisis Strategi Pemasaran Dalam Pengelolaan Dan Pengembangan Usaha Toko Al Azqia. SIBATIK JOURNAL: Jurnal Ilmiah Bidang Sosial, Ekonomi, Budaya, Teknologi, dan Pendidikan, 1(6), 857–866. https://doi.org/10.54443/sibatik.v1i6.101
Nianzhi. (2020). Perumusan Strategi Bisnis untuk Meningkatkan Daya Saing pada Toko Bangunan XYZ. 1–23. https://doi.org/10.24912/jmbk.v4i1.6797
Noviadi, K., Isyanto, P., & Yani, D. (2022). Strategi Pemasaran Melalui Analisis SWOT pada Toko Bangunan Enggal Family Karawang. Jurnal Ilmiah Indonesia, 7(12), 1–12. https://doi.org/10.36418/syntax-literate.v7i12.11289
Sardanto, R., Meilina, R., & Muslih, B. (2018). Implementasi Pelayanan Publik Berbasis Brand "Harmoni Kediri The Service City." Ekspektra : Jurnal Bisnis dan Manajemen, 2, 140–156. https://doi.org/10.25139/ekt.v2i2.1008
Setyawan, A., & Setiawati, C. I. (2023). Strategi Pemasaran Di Era Pandemi Covid-19 Pada Toko Bangunan Ud . Maju Jaya Perkasa Kecamatan Ngantang Kabupaten Malang Dengan Pendekatan Analisis Swot. 10(1), 373–378.
Syarifuddin, Mandey, S. L., & Tumbuan, W. J. F. . (2020). Sejarah Pemasaran Dan Strategi Bauran Pemasaran. In J. B. Maramis (Ed.), CV. Istana Agency (Vol. 5). Yogyakarta. http://repository.iain-manado.ac.id/544/
Wijayati, H. (2019). Panduan Analisis SWOT untuk Kesuksesan Bisnis. Yogyakarta: QUADRANT.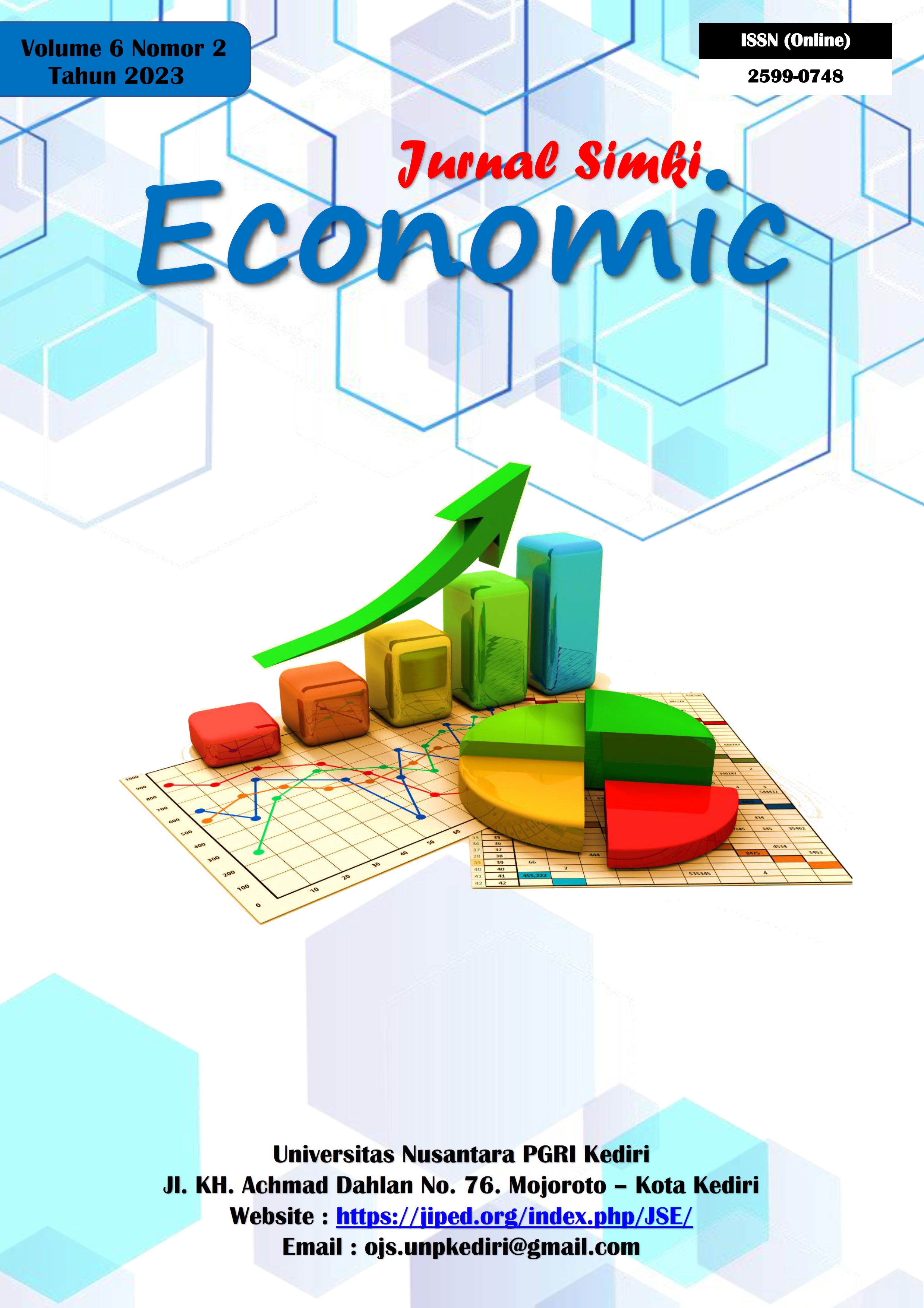 How to Cite
Badi'ati, N., & Zulistiani, Z. (2023). Peningkatan Daya Saing Toko Bangunan Sumber Rejeki Kabupaten Blitar Melalui Strategi Pemasaran Berbasis Analisis SWOT. Jurnal Simki Economic, 6(2), 452-462. https://doi.org/10.29407/jse.v6i2.394
Copyright (c) 2023 Nabilatul Badi'ati, Zulistiani
This work is licensed under a Creative Commons Attribution 4.0 International License.