Efektivitas Pemberdayaan pada Penyandang Disabilitas oleh Binaan Dekranasda Gowa Kecamatan Bontolempangan
A. Octamaya Tenri Awaru

Universitas Negeri Makassar

Dwi Sartika

Universitas Negeri Makassar

Jelsita Banna

Universitas Negeri Makassar

Rahma

Universitas Negeri Makassar

Nurul Muhlisah

Universitas Negeri Makassar

Astrid Wahyuni

Universitas Negeri Makassar
Abstract views:
157
,
PDF (Bahasa Indonesia) downloads:
88
Keywords:
Empowerment, Persons with disabilities, Effectiveness
Abstract
Persons with Disabilities are people who experience physical, intellectual, mental or sensory limitations for a long period of time. This study aims to find out how the form of empowerment carried out by the Gowa Dekranasda in Bontolempangan and how the effectiveness of empowering persons with disabilities in the Bontolempangan sub-district, Gowa Regency. The research was conducted with qualitative methods, data collection was carried out by interviewing and selecting informants with. Purposive sampling. The research location is in the Bontolempangan sub-district, Gowa district. The results showed that 1). The form of empowerment carried out by the Gowa Dekranasda is by providing assistance to persons with disabilities in the form of production equipment. 2). The empowerment carried out for people with disabilities is bamboo crafts and sewing.
Downloads
Download data is not yet available.
References
Afandi Muhrisun, Andayani. 2016. Pemberdayaan Dan Pendampingan Komunitas Penyadang Disabilitas Dalam Mengakses Pendidikan Tinggi. Vol 16, 2. Online: ejournal.uin.ac.id/pusat/aplikasi
Hamsinar, Henny, Teguh Setiawan, and Wa Ode Halmia Pasrahmaya. 2018. "Rancang Bangun Website Dewan Kerajinan Nasional (Dekranas) Daerah Kota Baubau Sebagai Media Informasi Dan Promosi Souvenir Kerajinan Khas Buton." Jurnal Informatika 7.2.
Hikmawati, Eny, and Chatarina Rusmiyati. 2011. "Kebutuhan pelayanan sosial penyandang cacat." Sosio Informa 16.1
Krinasda. 2019. Pemberdayaan Penyandang Disabilitas Oleh Dinas Sosial Kota Kediri. Vol 3, 1.
Lusa, H., & Supriatna, I. 2020. Pemberdayaan Masyarakat Melalui Workshop Ekonomi Kreatif Berbasis Promosi Online Olahan Singkong Di Ukm Kelompok Tani Genting Jaya Bengkulu Utara. Abdi Dosen: Jurnal Pengabdian Pada Masyarakat, 4(4), 361-370.
Maani, Dt karjuni. 2011. Teori Actors Pemberdayaan masyarakat. Vol 1
Singkoh, frans. 2019. Peran Dinas Sosial Kota Manado Dalam Pemberdayaan Masyarakat Penyandang Disabilitas. Vol 3, 3.
Suhailah, Maulana. 2018. Peran Dinas Sosial Dalam Pemberdayaan Penyandang Disabilitas Di Kota Binjani. Vol 6. 2.
Sy. Syobah, Nurul. Pemberdayaan Penyadang Disabilitas Provinsi Kalimantan Timur
Syaifudduk, dkk. 2017. Model Pembelajaran Masyarakat Terpadu. Banda Aceh
Syamsir, N. 2018. Efektivitas Dewan Kerajinan Nasional (DEKRANAS) Provinsi Sumatera Utara Dalam Pembinaan Kerajinan Songket dan Batik Medan (Doctoral dissertation, Universitas Muhammadiyah Sumatera Utara).
Tukiman. 2021. Pemberdayaan Disabilitas Mental Melalui Program Karepe Dimensi Bojo di Kabupaten Jombang. Vol 2, 3.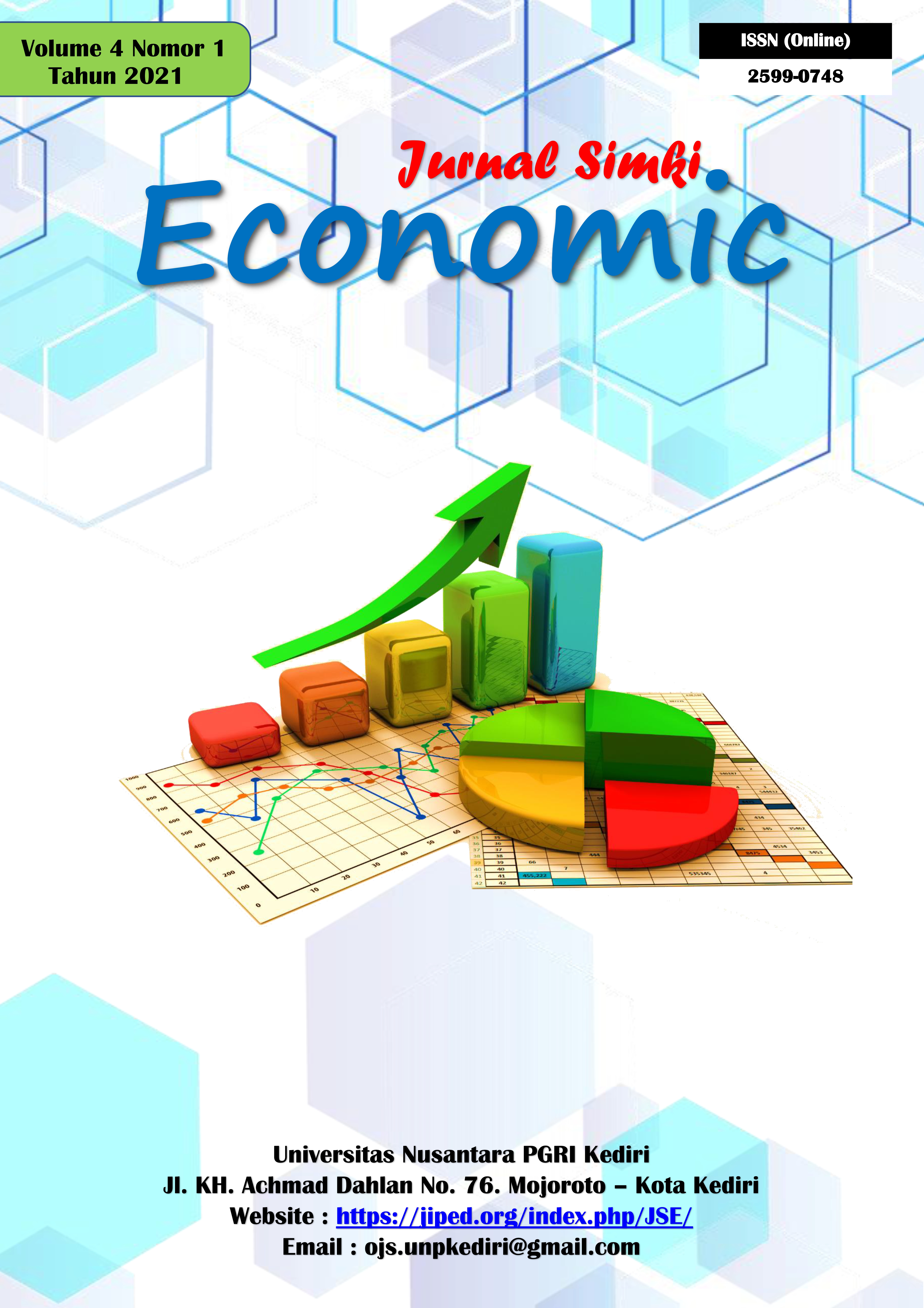 How to Cite
Awaru, A. O. T., Sartika, D., Banna, J., Rahma, Muhlisah, N., & Wahyuni, A. (2021). Efektivitas Pemberdayaan pada Penyandang Disabilitas oleh Binaan Dekranasda Gowa Kecamatan Bontolempangan. Jurnal Simki Economic, 4(1), 23-34. https://doi.org/10.29407/jse.v4i1.54
Copyright (c) 2021 Dwi Sartika, Jelsita Banna, Rahma, Nurul Muhlisah, Astrid Wahyuni
This work is licensed under a Creative Commons Attribution 4.0 International License.