Peran Media Sosial Dimasa Pandemi untuk Kemajuan Perekonomian Di Masyarakat
Novita Risnawati

Institut Manajemen Wiyata Indonesia
Abstract views:
278
,
PDF (Bahasa Indonesia) downloads:
259
Keywords:
Social media, pandemic
Abstract
Social media is now a daily food. Starting from the children to the older generation can not be separated from the existence of social media. The existence of social media makes it easier for us to obtain and convey information, gain social and economic benefits, makes it easier for us to interact with many people, expand relationships, distance and time are no longer a problem. It has been more than a year that this pandemic has changed the order of people's lives in Indonesia. So that many places of business do not develop, and many end up in bankruptcy. All activities are carried out onlie to avoid gathering people in various places. The current pandemic is engulfing various parts of the world, including Indonesia, causing various impacts on people's lives, especially in the economic field (many have gone out of business, many have been laid off, and others). Therefore, the purpose of this paper is to find out the role of social media during the pandemic for the progress fo the community's economy. The results of this paper indicate that social media can play a role in restoring the community's economy, and become an alternative during this pandemic. This study uses a literature review method, with data collection techniques via the internet, journals and books related to the theme.
Downloads
Download data is not yet available.
References
Aida Rismana, Ellyn Normelani, Sidharta Adyatma. "PERAN MEDIA SOSIAL DIMASA PANDEMI UNTUK KEMAJUAN PEREKONOMIAN DI MASYARAKAT." JPG, 2016.
Andreas M. Kaplan, Michael Haenlein. Users of the world, unite! The challenge and opportunities of Social Media. Vol. 53 Issue 1. Business Horizons, 2010.
Anita Whiting, David Williams. "Why people use social media: a uses and gratifications approach ." Qualitative Market Research 16, no. 4 (Agustus 2013).
Arianto, Bambang. "Pengembangan UMKM Digital di Masa Pandemi Covid-19." ATRABIS: Jurnal Administrasi Bisnis 6, no. No 2 (Desember 2020).
Diah Handayani, Dwi Rendra Hadi, Fathiyah Isbaniah, Erlina Burhan, Heidy Agustin. "Penyakit Virus Corona 2019." JURNAL RESPIROLOGI INDONESIA, 2020.
Harahap, Rara Julia Timbara. "KARAKTERISTIK KLINIS PENYAKIT CORONAVIRUS 2019." Jurnal Penelitian Perawat Profesional 2, no. Nomor 3 (Agustus 2020).
MACHYUDIN AGUNG HARAHAP, SUSRI ADENI. "TREN PENGGUNAAN MEDIA SOSIAL SELAMA PANDEMI DI INDONESIA ." Jurnal Professional FIS UNIVED Vol.7 No.2 Desember 2020, 2020.
Philip Kotler, Kevin Lane Keller. Marketing Management. 15tn . Harlow, Essex Pearson Education Limited, 2016.
Purbohastuti, Arum Wahyuni. "EFEKTIVITAS MEDIA SOSIAL SEBAGAI MEDIA PROMOSI ." Tirtayasa EKONOMIKA 12, no. No. 2 (Oktober 2017).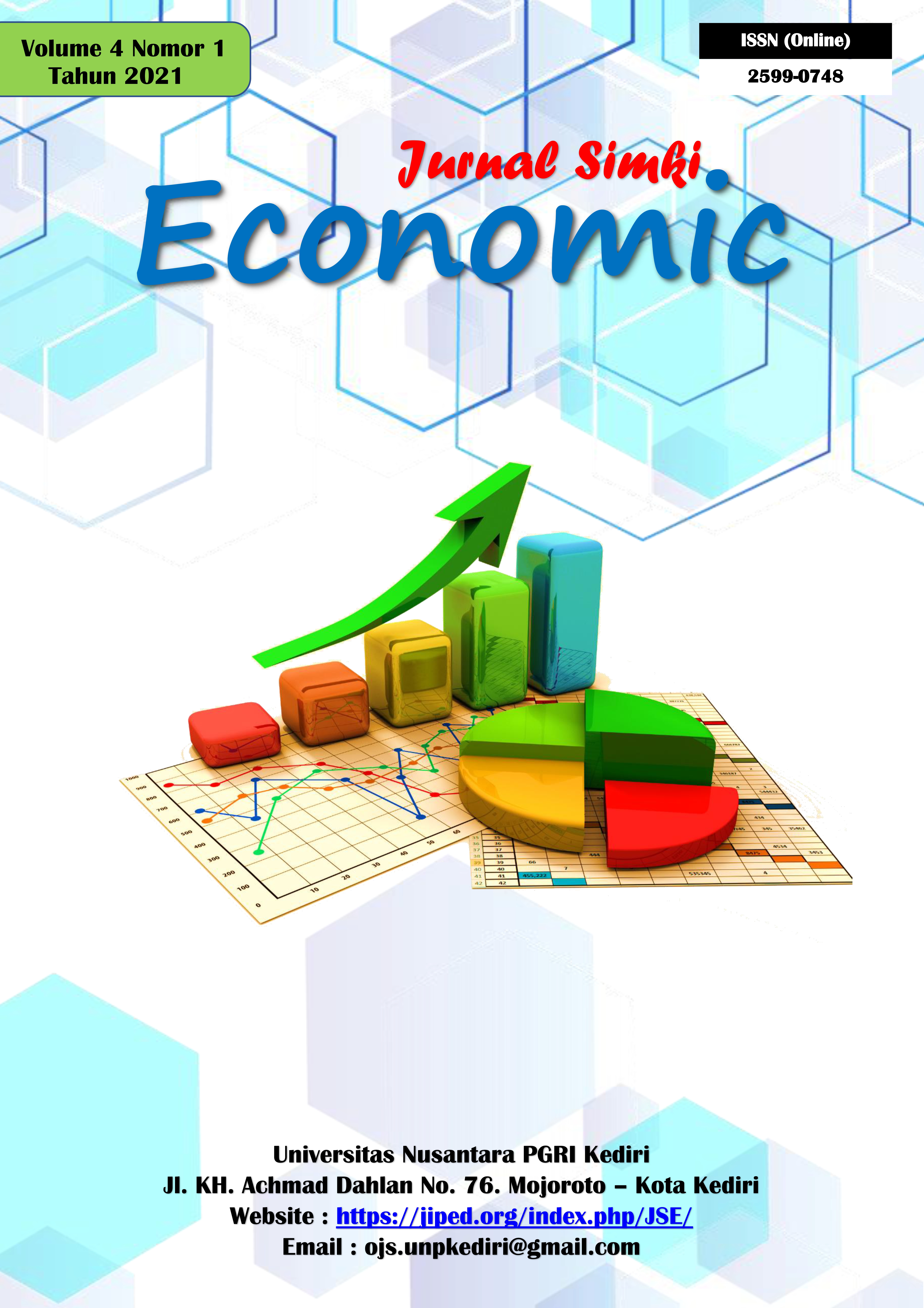 How to Cite
Risnawati, N. (2021). Peran Media Sosial Dimasa Pandemi untuk Kemajuan Perekonomian Di Masyarakat. Jurnal Simki Economic, 4(1), 35-46. https://doi.org/10.29407/jse.v4i1.56
Copyright (c) 2021 Novita Risnawati
This work is licensed under a Creative Commons Attribution 4.0 International License.