Pengembangan Media Pembelajaran Video dan Game Online Materi Kegiatan Ekonomi untuk Siswa Kelas 4 Sekolah Dasar
Ananda Novita Riski

Universitas Kristen Satya Wacana

Gamaliel Septian Airlanda

Universitas Kristen Satya Wacana
Abstract views:
131
,
PDF (Bahasa Indonesia) downloads:
116
Keywords:
Video learning media, Material for Economic Activities, Wordwall Online Games
Abstract
This study aims to develop video learning media and online games for grade 4 elementary school students on economic activity material and to determine the feasibility level of the developed media. This type of research is research and development or Research and Development (R&D). The results of the preliminary study state that the media used by the teacher in learning is monotonous so that learning becomes less effective and students easily get bored. Media developed using the Borg & Gall model include 1) Research and development of initial information, 2) Planning, 3) Development of initial product drafts, 4) Initial trials, and 5) Product revision. The results of the study were conducted on 4th grade students at SD Negeri 3 Kaloran, totaling 11 people, obtaining a percentage of 90.54% in video media while online game media obtained a percentage of 91.63% with the second criterion of "Very Interesting" media. Based on the results of the assessment, the material experts got a total score of 85%, media experts got a total score of 86.25%, and linguists got a total score of 88.75%. The percentage of 80% - 100% is declared "feasible and can be implemented". This shows that video media and online games can be used by teachers to become an alternative learning media to support more effective and efficient learning.
Downloads
Download data is not yet available.
References
Aprianto, I., & Dafit, F. (2022). Dampak Game Online terhadap Pembelajaran Siswa di Sekolah Dasar. Scaffolding: Jurnal Pendidikan Islam Dan Multikulturalisme, 4(2). https://doi.org/10.37680/scaffolding.v4i2.1547
Arsyad, A. (2004). Media Pembelajaran. In 2004. Jakarta: PT. Raja Grafindo Persada.
Borg, W. ., & Gall, M. . (1983). Educational Research an Introduction fourth edition. Longman Inc, 1(1).
Fauzan, M., Haryadi, H., & Haryati, N. (2021). Penerapan Elaborasi Model Flipped Classroom dan Media Google classroom Sebagai Solusi Pembelajaran Bahasa Indonesia Abad 21. DWIJA CENDEKIA: Jurnal Riset Pedagogik, 5(2). https://doi.org/10.20961/jdc.v5i2.55779
Khairunisa, Y. (2021). PEMANFAATAN FITUR GAMIFIKASI DARING MAZE CHASE–WORDWALL SEBAGAI MEDIA PEMBELAJARAN DIGITAL MATA KULIAH STATISTIKA DAN PROBABILITAS. MEDIASI, 2(1). https://doi.org/10.46961/mediasi.v2i1.254
Kustandi, C., & Darmawan, D. (2020). Pengembangan Media. Pembelajaran: Konsep & Aplikasi Pengembangan Media Pembelajaran. In CV. Kencana.
Windawati, R., & Koeswanti, H. D. (2021). Pengembangan Game Edukasi Berbasis Android untuk Meningkatkan hassil Belajar Siswa di Sekolah Dasar. Jurnal Basicedu, 5(2). https://doi.org/10.31004/basicedu.v5i2.835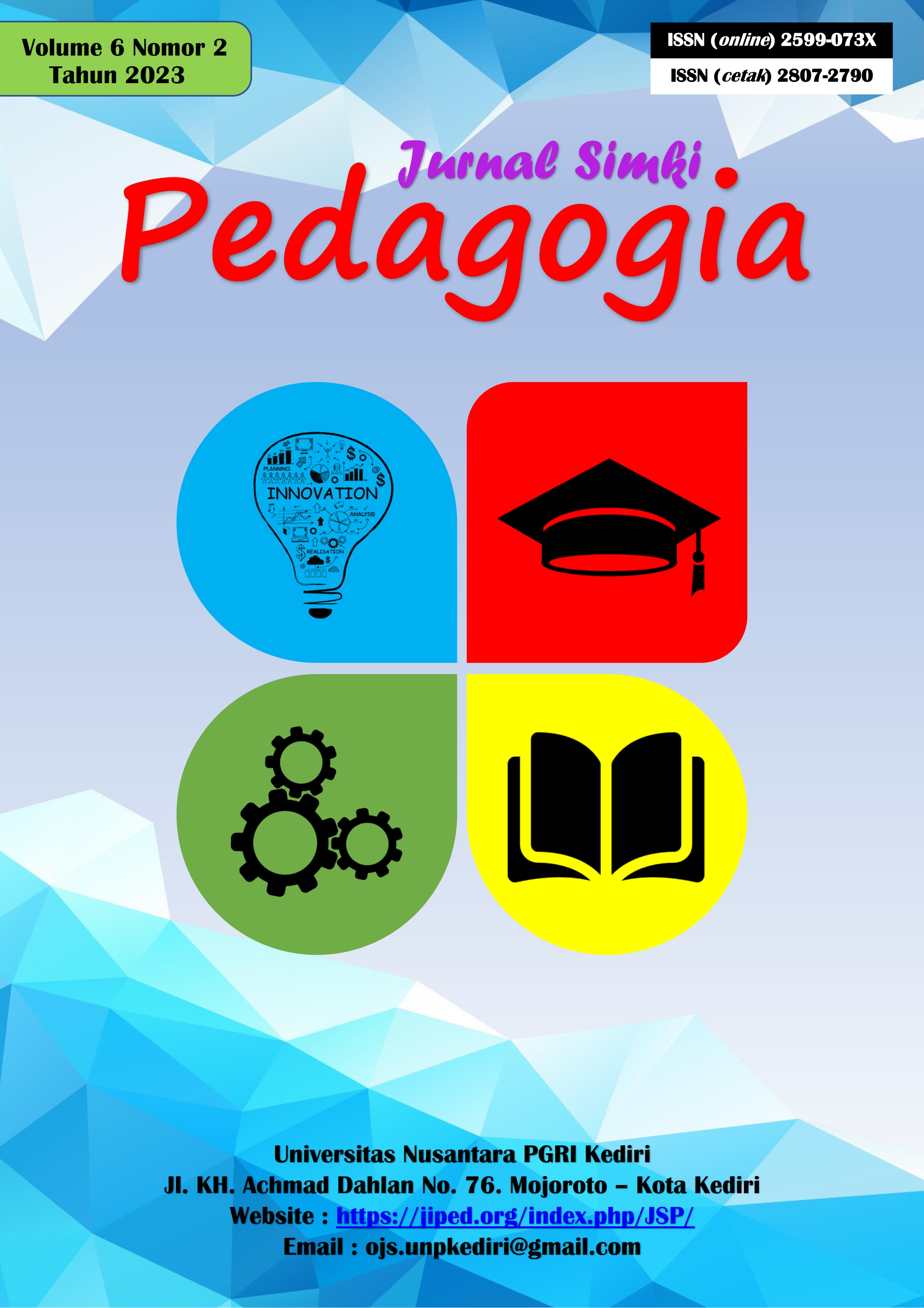 How to Cite
Riski, A. N., & Airlanda, G. S. (2023). Pengembangan Media Pembelajaran Video dan Game Online Materi Kegiatan Ekonomi untuk Siswa Kelas 4 Sekolah Dasar. Jurnal Simki Pedagogia, 6(2), 448-457. https://doi.org/10.29407/jsp.v6i2.132
Copyright (c) 2023 Ananda Novita Riski, Gamaliel Septian Airlanda
This work is licensed under a Creative Commons Attribution 4.0 International License.

Jurnal Simki Pedagogia : https://jiped.org/index.php/JSP/index is licensed under a Creative Commons Attribution 4.0 International License.