Meningkatkan Hasil Belajar Siswa Kelas VIII SMPN 6 Kediri dalam Menulis Puisi dengan Pengembangan Model Definisi
Eka Sutirta

SMPN 6 KEDIRI
Abstract views:
163
,
PDF (Bahasa Indonesia) downloads:
100
Keywords:
Learning Outcomes, Writing Poetry, Definition Model
Abstract
The process of learning Indonesian in Class VIII-A of SMPN 6 Kediri experienced several obstacles. The problem is that the teacher only gives assignments or asks students to write poetry without being accompanied by unclear instructions on how to write the poem itself. Also because learning resources are only centered on textbooks. And what often happens is the low interest of students in poetry. After the daily test, it is known that only 53% of students have complete KKM scores. These data indicate that student learning outcomes are quite low. One solution to overcome this problem is by developing an appropriate definition model. The definition model is a model of writing poetry by giving a definition or meaning to something. The keywords that are usually used are: Students are invited to determine in advance the word to be defined. The next step students define the word in several definitions. After that, students are asked to add their definitions into definitions that can be contemplated or contain messages. Finally, students try to embellish the sound of the definition into poetry. With the patience and guidance of the teacher the definition model is able to improve the learning outcomes of Class VIII-A students of SMPN 6 Kediri in Indonesian language lessons on poetry writing materials.
Downloads
Download data is not yet available.
References
Ahmadi, Mukhsin. 1985. Strategi Belajar Mengajar Ketrampilan Berbahasa dan Mengapresiasi Sastra Indonesia. Departemen Pendidikan dan Kebudayaan Direktorat Jendral Pendidikan Tinggi. Jakarta: P2LPTK
Abu Kassim, N. S., & Zakaria, N. (2020). CITRA DAKWAH DALAM LIRIK PUISI ENDOI. Jurnal Pengajian Melayu, 31(1). https://doi.org/10.22452/jomas.vol31no1.7
Arikunto, S. (2002). Metodologi Penelitian Suatu Pendekatan Proposal. 2017.
Arikunto, S. (2010). Dasar-dasar Evaluasi Pendidikan. Jakarta: Bumi Aksara.
Budiman, K. (2013). MEMBACA(-ULANG) SEBUAH PUISI PAMPLET RENDRA: "SAJAK SEBATANG LISONG." Poetika, 1(2). https://doi.org/10.22146/poetika.v1i2.10395
Nurgiyantoro, B. (2009). Pembelajaran Bahasa Indonesia Direktorat Jendral Pendidikan Tinggi. Jakarta: Departemen Pendidikan Nasional.
Sugiono. (2016). Metode Pendekatan Kuantitatif, kualitatif dan R&D. In Bandung: Alfabeta.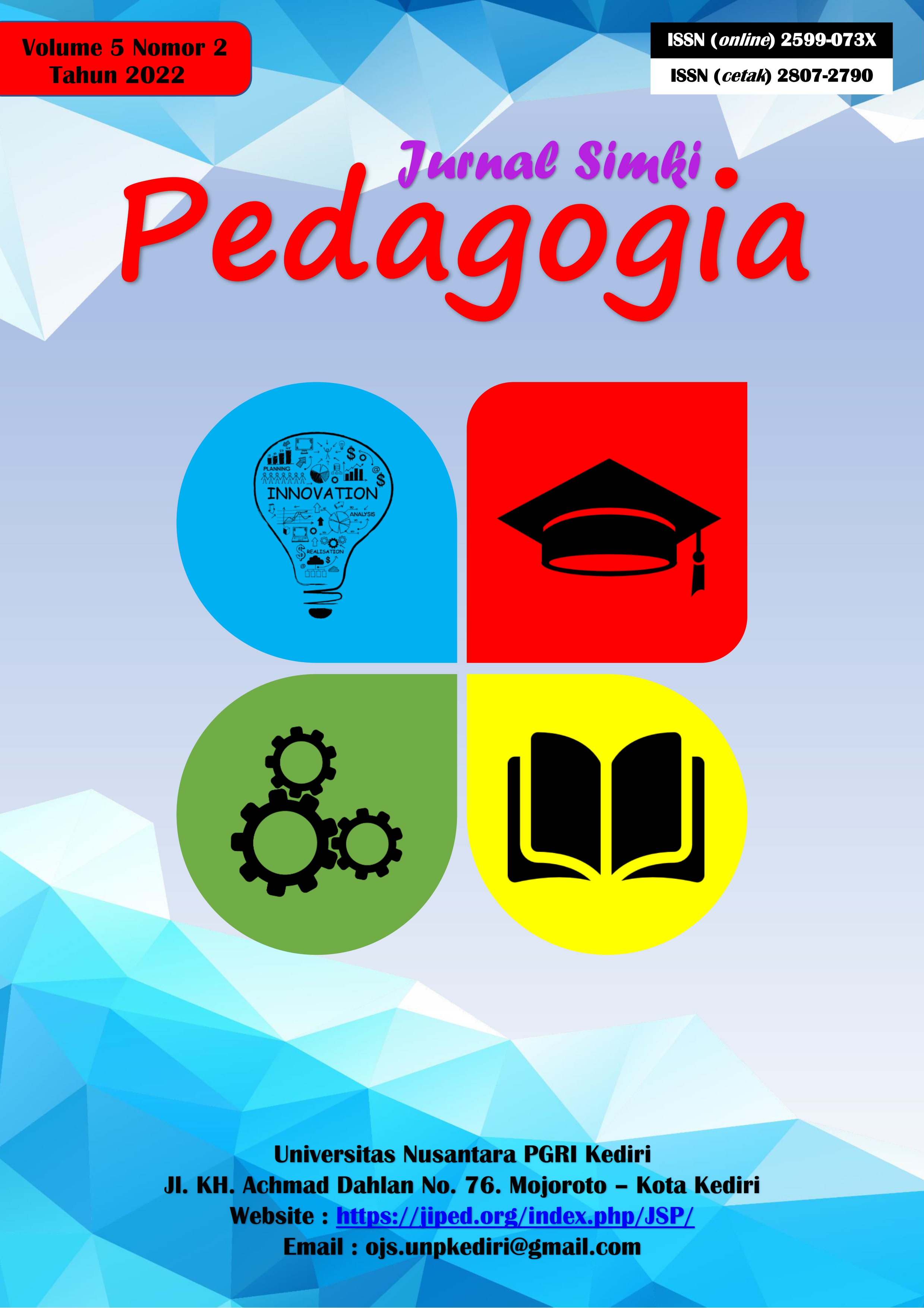 How to Cite
Sutirta, E. (2022). Meningkatkan Hasil Belajar Siswa Kelas VIII SMPN 6 Kediri dalam Menulis Puisi dengan Pengembangan Model Definisi. Jurnal Simki Pedagogia, 5(2), 147-156. https://doi.org/10.29407/jsp.v5i2.139
Copyright (c) 2022 Eka Sutirta
This work is licensed under a Creative Commons Attribution 4.0 International License.

Jurnal Simki Pedagogia : https://jiped.org/index.php/JSP/index is licensed under a Creative Commons Attribution 4.0 International License.