Implementasi Supervisi Akademik Kepala Sekolah dalam Meningkatkan Kinerja Guru SD
Penelitian Kualitatif Di UPTD SDN 8 Nagrikaler Kecamatan Purwakarta Kabupaten Purwakarta
Rani Indriani

Universitas Islam Nusantara

Adjat Sudrajat

Universitas Islam Nusantara

Kakay Karyana

Universitas Islam Nusantara
Abstract views:
214
,
PDF (Bahasa Indonesia) downloads:
174
Keywords:
Principal's academic supervision, Teacher performance
Abstract
The teacher is the most important part in the implementation of learning activities so that it can create quality education, of course, in this case the teacher's performance will greatly affect the success of an education implementation. Low teacher performance will reduce the quality of education and vice versa high teacher performance will affect effective learning activities. A careful planning is needed if you want to get good results in learning activities. To find out how much the teacher's performance is, it is necessary to carry out continuous supervision of the principal. The principal is a functional teacher who is given the task of leading the school, including supervising the teachers. Supervision aims to help teachers who find difficulties in the process of learning activities and everything in it. In addition, supervision can also be used as a strategy to find out about the needs of schools that must be owned to support the smooth learning activities. In practice, supervision requires careful planning, so that it can streamline the results of principal supervision activities and improve teacher performance so that the quality of school education itself also increases. The purpose of this study is to understand and analyze: 1) How is the planning of Supervision by the Principal in Improving Teacher Performance at SDN 8 Purwakarta. 2) How is the implementation of academic supervision at SDN 8 Nagrikaler Purwakarta. 3) How is the evaluation of the principal's academic supervision in improving performance elementary School teacher. This study uses a qualitative approach. The data collection method is the approach taken to obtain information through observation, interviews and documentation.
Downloads
Download data is not yet available.
References
Arikunto, S. (2002). Metodologi Penelitian Suatu Pendekatan Proposal. 2017.
Arikunto, S. (2010). Dasar-dasar Evaluasi Pendidikan. Jakarta: Bumi Aksara.
Depdiknas. (2003). Undang-Undang No.20 Tahun 2003. In Departemen Pendidikan Nasional.
Mendiknas RI. (2013). Peraturan Menteri Pendidikan Nasional Republik Indonesia Nomor 41 Tahun 2007 Tentang Standar Proses. Journal of Chemical Information and Modeling, 53(9).
NASIONAL, M. P., & INDONESIA, R. (2007). PERATURAN MENTERI PENDIDIKAN NASIONAL REPUBLIK INDONESIA NOMOR 13 TAHUN 2007 TENTANG STANDAR KEPALA SEKOLAH/MADRASAH. REPUBLIK INDONESIA, вы12у(235).
Permana, E. P. (2021). PENGARUH MEDIA PEMBELAJARAN WAYANG KERTAS TERHADAP NILAI KARAKTER SISWA SEKOLAH DASAR. Prima Magistra: Jurnal Ilmiah Kependidikan, 2(2). https://doi.org/10.37478/jpm.v2i2.1028
Sahertian. (2004). Konsep dan Teknik Supervisi Pendidikan. Jakarta: Rineka Cipta.
Sugiyono. (2015). Metode Penelitian dan Pengembangan Pendekatan Kualitatif, Kuantitatif, dan R&D. In Metode Penelitian dan Pengembangan Pendekatan Kualitatif, Kuantitatif, dan R&D.
Sugiyono. (2017). Metode Penelitian Kuantitatif, Kualitatif dan R&D. Alfabeta.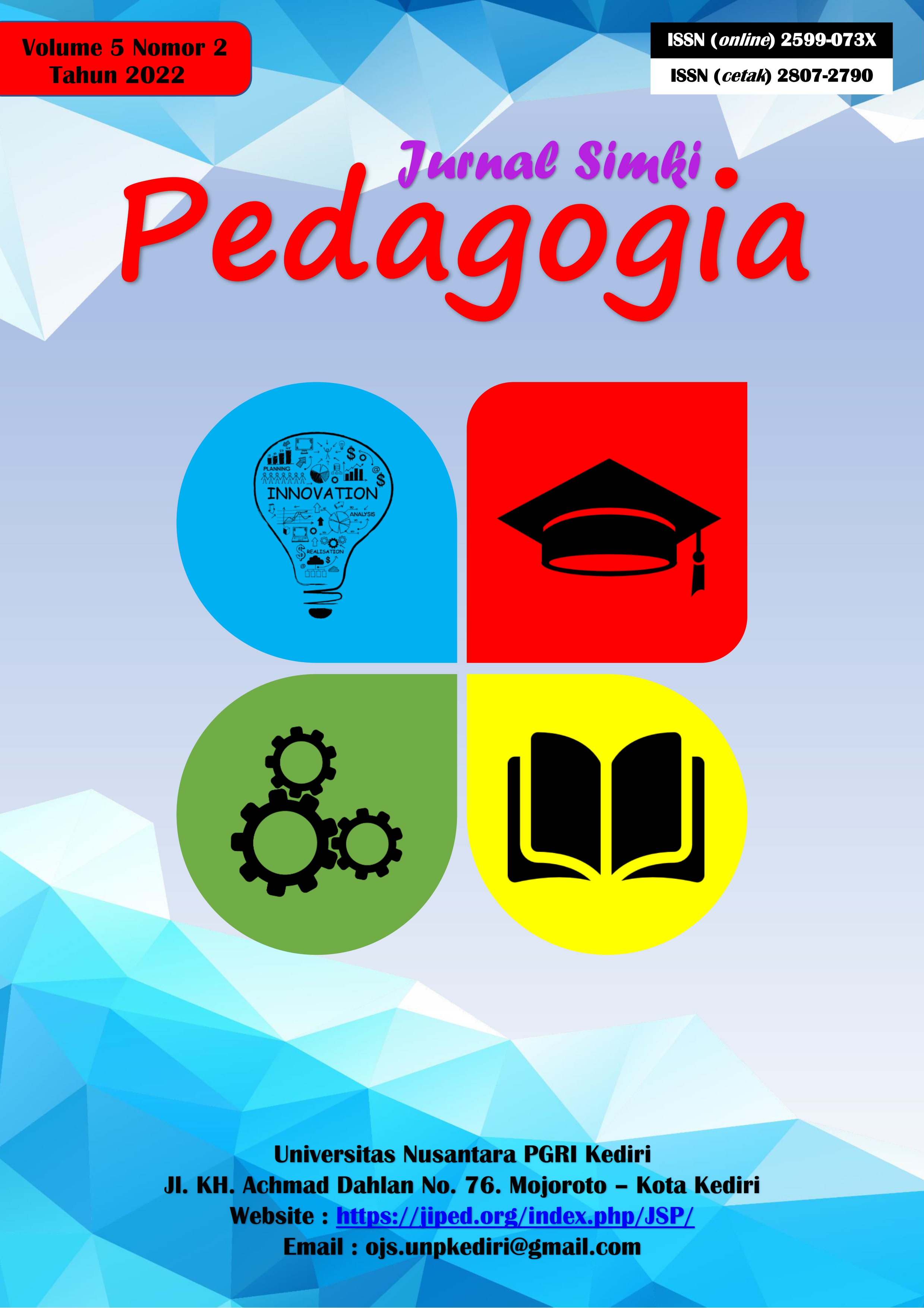 How to Cite
Indriani, R., Sudrajat, A., & Karyana, K. (2022). Implementasi Supervisi Akademik Kepala Sekolah dalam Meningkatkan Kinerja Guru SD: Penelitian Kualitatif Di UPTD SDN 8 Nagrikaler Kecamatan Purwakarta Kabupaten Purwakarta. Jurnal Simki Pedagogia, 5(2), 192-199. https://doi.org/10.29407/jsp.v5i2.148
Copyright (c) 2022 Rani Indriani, Adjat Sudrajat, Kakay Karyana
This work is licensed under a Creative Commons Attribution 4.0 International License.

Jurnal Simki Pedagogia : https://jiped.org/index.php/JSP/index is licensed under a Creative Commons Attribution 4.0 International License.