The Effect of Learning Leadership Managerial at the State of Cikande Elementary School
Siti Laela

Universitas Sultan Ageng Tirtayasa

Muhammad Syadeli Hanafi

Universitas Sultan Ageng Tirtayasa

Sudadio Sudadio

Universitas Sultan Ageng Tirtayasa
Abstract views:
93
,
PDF downloads:
77
Keywords:
Learning leadership, Managerial, Elementary School
Abstract
This study purpose is determined how to describe or provide an overview and relationship between learning leadership managerial at the state of Cikande Elementary School. The research method use a descriptive correlational research. It reveals whether there is a relationship between various variables based on the size of the correlation coefficient. The data obtained in the form of descriptive and numerical processing using statistical methods used and then interpreted. In this study, the population or research targets were all teachers at State Elementary Schools in Cikande District, Serang Regency. Based on data from the Department of Education and Culture of Serang Regency, there are 32 public elementary schools in the education sector, consisting of 306 teachers. The sample size calculation uses a table developed.  From this calculation, 171 samples were obtained. The total population of 464 and the sampling technique used is proportional random sampling. This study uses SEM analysis tools using the Lisrel program. The methodologically of the research design is causal and simultaneous, has a relatively complicated relationship, so testing using this method is to be able to test what the objectives of this study are.The result show the managerial ability of the principal affects the quality of the school, learning leadership affects school quality and the feasibility of the facilities affects the quality of the school.
Downloads
Download data is not yet available.
References
Bagobiri, Garba. (2022). Leading Predictor Of School Effectiveness In Niger State Secondary Schools, Nigeria. Minna Journal Of Educational Studies, 7(1), 71–83. http://dx.doi.org/10.15700/saje.v41n3a1859
Cahyati, S., Tukiyo, T., Saputra, N., Julyanthry, J., & Herman, H. (2022). How to Improve the Quality of Learning for Early Childhood? An Implementation of Education Management in the Industrial Revolution Era 4.0. Jurnal Obsesi : Jurnal Pendidikan Anak Usia Dini, 6(5), 5437-5446. doi:https://doi.org/10.31004/obsesi.v6i5.2979
Davidson, Shayn S., Keebler, Joseph R., Zhang, Tianxin, Chaparro, Barbara, Szalma, James, & Frederick, Christina M. (2022). The Development And Validation Of A Universal Enjoyment Measure: The Enjoy Scale. Current Psychology, 1–13. http://dx.doi.org/10.1007/s12144-022-02967-6
Giglio, Stefano, Kelly, Bryan, & Xiu, Dacheng. (2022). Factor Models, Machine Learning, And Asset Pricing. Annual Review Of Financial Economics, 14, 337–368. https://doi.org/10.1146/annurev-financial-101521-104735
Hair, Joseph, & Alamer, Abdullah. (2022). Partial Least Squares Structural Equation Modeling (Pls-Sem) In Second Language And Education Research: Guidelines Using An Applied Example. Research Methods In Applied Linguistics, 1(3), 100027. https://doi.org/10.1016/j.rmal.2022.100027
Herrera, Paulo A., Marazuela, Miguel Angel, & Hofmann, Thilo. (2022). Parameter Estimation And Uncertainty Analysis In Hydrological Modeling. Wiley Interdisciplinary Reviews: Water, 9(1), E1569. https://doi.org/10.1002/wat2.1569
Hidayat, Rachmat, & Wulandari, Patricia. (2022). Data Analysis Procedures With Structural Equation Modelling (Sem): Narrative Literature Review. Open Access Indonesia Journal Of Social Sciences, 5(6), 859–865. https://doi.org/10.37275/oaijss.v5i6.142
Knežević, Goran, Lazarević, Ljiljana B., Bosnjak, Michael, & Keller, Johannes. (2022). Proneness To Psychotic‐Like Experiences As A Basic Personality Trait Complementing The Hexaco Model—A Preregistered Cross‐National Study. Personality And Mental Health, 16(3), 244–262. https://doi.org/10.1002/pmh.1537
Larosa, Esta, Gani, Imam Prawiranegara, & Mbakwa, Patterson Nji. (2022). The Effect Of Industrial Practice Experience On Student's Work Readiness Of Machinery Engineering Vocational School. Ijeca (International Journal Of Education And Curriculum Application), 5(2), 181–189. https://doi.org/10.31764/ijeca.v5i2.10135
Mubarok, Husni, Dinangsit, Dinar, & Lengkana, Anggi Setia. (2022). The Relationship Of Self Esteem And Physical Fitness To Learning Achievement In Jabal Toriq Boarding School Students. Juara: Jurnal Olahraga, 7(3), 512–525. https://doi.org/10.33222/juara.v7i3.2265
Obidovna, Djalilova Zarnigor. (2022). The Main Concepts Of Politeness In Modern Linguopragmatics: The Politeness Principle By J. Leech. International Journal Of Pedagogics, 2(11), 15–20. https://doi.org/10.37547/ijp/Volume02Issue11-03
Senan, Nabil Ahmed Mareai, & Sulphey, M. M. (2022). Construction And Validation Of The Employability Questionnaire For Accounting Graduates. Education+ Training. http://dx.doi.org/10.1108/ET-04-2021-0152
Varriale, Luisa, Briganti, Paola, Volpe, Tiziana, & Ferrara, Maria. (2023). The Role And Function Of Digital Technologies In The Sustainability Perspective: Itm Web Of Conferences, 51. Edp Sciences. http://dx.doi.org/10.1051/itmconf/20235106003
Wang, Chen, Wang, Xiang, Zhang, Jiawei, Zhang, Liang, Bai, Xiao, Ning, Xin, Zhou, Jun, & Hancock, Edwin. (2022). Uncertainty Estimation for stereo matching based on evidential deep learning. Pattern Recognition, 124, 108498. https://doi.org/10.1016/j.patcog.2021.108498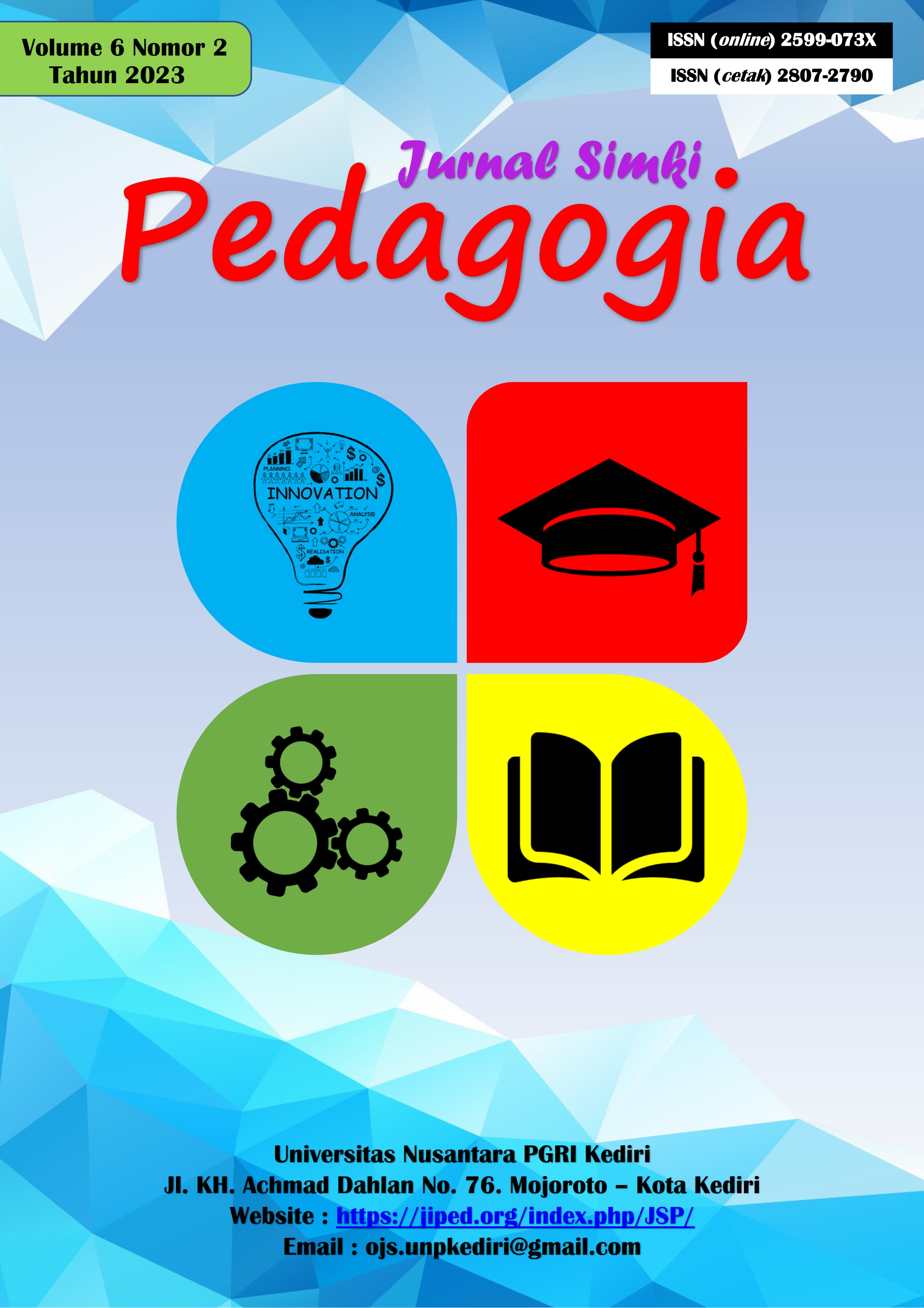 How to Cite
Laela, S., Hanafi, M. S., & Sudadio, S. (2023). The Effect of Learning Leadership Managerial at the State of Cikande Elementary School. Jurnal Simki Pedagogia, 6(2), 577-588. https://doi.org/10.29407/jsp.v6i2.298
Copyright (c) 2023 Siti Laela, Muhammad Syadeli Hanafi, Sudadio
This work is licensed under a Creative Commons Attribution 4.0 International License.

Jurnal Simki Pedagogia : https://jiped.org/index.php/JSP/index is licensed under a Creative Commons Attribution 4.0 International License.