A Narrative Inquiry of Student's Public Speaking Ability by Bilingual (English & Arabic) at Boarding School of the Al-Mashduqiyah Kraksaan
Arifatur Risqiyah

Universitas Islam Zainul Hasan Genggong Probolinggo

Endah Tri Wisudaningsih

Universitas Islam Zainul Hasan Genggong Probolinggo

Ririn Fatmawati

Universitas Islam Zainul Hasan Genggong Probolinggo
Abstract views:
21
,
PDF downloads:
10
Keywords:
Public Speaking, Language, Narrative Inquiry, Strategies
Abstract
A narrative inquiry of students' public speaking, ability using bilingual, English, and Arabic. This research aims to explore the story of the experience of public speaking, students during students studying at Al-Mashduqiyah. More specifically, the study aimed to understand the difficulties and coping strategies that students face when speaking in public using a foreign language. The method used by the qualitative approach is narrative inquiry. A Junior High student participated in the study. To collect data valid information researcher use questionnaires, interviews, dairy, and documentation obtained from participants and a teacher. As a result, this narrative investigation shows the problems of public speaking in two languages, individual factors, and implementing them into public speaking. To overcome difficulties in public speaking, participants apply strategies with repetition and habituation. This study shows that the mastery of language, accent, and manner of delivery is important because it affects the audience's understanding of the communication.
Downloads
Download data is not yet available.
References
Anggito, A., & Setiawan. J. (2018). Metodologi Penelitian Kualitatif. Sukabumi, Jawa Barat. CV. Jejak.
Asih. N. (2019). Multilingualism in Education in Indonesia: A Literature Review, https://eprints.undip.ac.id/49921/1/multilingualismineducationinIndonesia.pdf.
Carnegie, D. (2018). The Art of Public Speaking. New Delhi. Diamond Pocket Books (P) Ltd.
Clandinin, D. (2023). Engaging Narrative Inquiry 2nd. New York. Routledge.
Hennink, M dkk. (2020). Qualitative Research Methods: Edition 2nd. UK. SAGE Publications Ltd.
Hidayoza, P., Amri, Z., & Wahyuni, D. (2019). Level of Public Speaking Anxiety and Coping Strategy by English Debaters at Unit Kegiatan Bahasa Asing in Dealing with English Debate. Journal of English Language Teaching, Vol.08, No.01. https://doi.org/10.24036/jelt.v8i1.103271.
Kleiser, G. (2021). Successful Methods of Public Speaking. Prabhat Prakashan.
Mohan, B. (2019). Understanding Public Speaking a Learner's Guide to Persuasive Oratory. New York. Routledge.
Nelson, W. (2018). Public Speaking Secrets How to Deliver a Perfect Presentation as a Foreign Professional. United States of America.
R. Grieve, J. Woodley, S. E. Hunt & A. McKay. (2021). Student fears of oral presentations and public speaking in higher education: a qualitative survey, Journal of Further and Higher Education, 45:9, 1281-1293, https://doi.org/10.1080/0309877X.2021.1948509
Williams, J. (2018). Public Speaking 10 Simple Methods to Build Confidence, Overcome Shyness, Increase Persuasion and Become Great at Public Speaking. Alakai Publishing sLLC.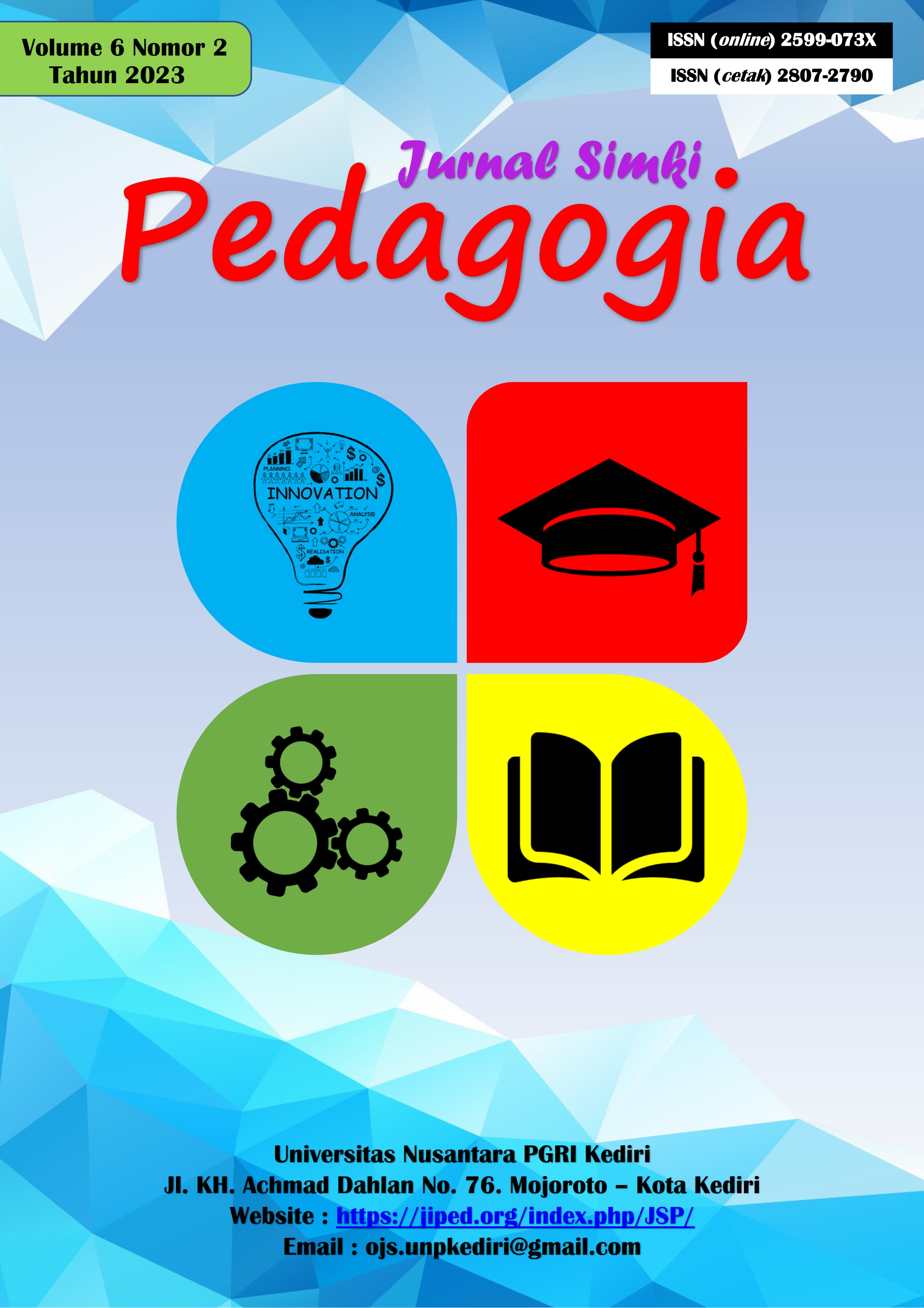 How to Cite
Risqiyah, A., Wisudaningsih, E. T., & Fatmawati, R. (2023). A Narrative Inquiry of Student's Public Speaking Ability by Bilingual (English & Arabic) at Boarding School of the Al-Mashduqiyah Kraksaan. Jurnal Simki Pedagogia, 6(2), 545-553. https://doi.org/10.29407/jsp.v6i2.305
Copyright (c) 2023 Arifatur Risqiyah, Endah Tri Wisudaningsih, Ririn Fatmawati
This work is licensed under a Creative Commons Attribution 4.0 International License.

Jurnal Simki Pedagogia : https://jiped.org/index.php/JSP/index is licensed under a Creative Commons Attribution 4.0 International License.