Implementasi Kombinasi Model PBL, NHT, dan Make A Match untuk Meningkatkan Aktivitas dan Hasil Belajar Siswa pada Pembelajaran IPS
Muhammad Saleh

Universitas Lambung Mangkurat
Abstract views:
589
,
PDF (Bahasa Indonesia) downloads:
423
Keywords:
Student Activity, Learning Outcomes, IPS, PBL, NHT, Make A Match.
Abstract
The problem in this study is the low level of student learning activities so that it has an impact on student learning outcomes in social studies learning. The purpose of this study was to describe teacher activities, describe student activities and analyze student learning outcomes. This study used a qualitative research approach with the type of classroom action research, which was carried out in 2 cycles of 4 meetings. The subjects of this study were students of class VA at SDN Teluk Tiram 1 Banjarmasin in the academic year 2020/2021, the number of students was 11 students consisting of 2 male students and 9 female students. The types of data in this study are qualitative data and quantitative data. Qualitative data obtained through observation of teacher and student activities. While quantitative data obtained through student learning outcomes. The results of this study indicate that the teacher's activities at meeting 4 reached the "very good" criteria. Student activities at meeting 4 reached the "very active" criteria. The classical completeness of student learning outcomes at meeting 4 reached 90.90%.
Downloads
Download data is not yet available.
References
Amir, N. F., Magfirah, I., Malmia, W., & Taufik, T. (2020). Penggunaan Model Problem Based Learning (Pbl) Pada Pembelajaran Tematik Siswa Sekolah Dasar:(The Use of Problem Based-Learning (PBL) Model in Thematic Teaching for the Elementary School's Students). Uniqbu Journal of Social Sciences, 1(2), 22–34.
Anifa, R. T., Zainil, M., & Pusra, D. (2021). Peningkatan Hasil Belajar Siswa dalam Pembelajaran Tematik Terpadu Menggunakan Model Pembelajaran Kooperatif Tipe Make A Match Kelas IV SD Negeri 20 Indarung. Jurnal Pendidikan Tambusai, 5(2).
Arikunto, S. (2012). Penelitian tindakan kelas.
Fachrurrohman, T. (2018). Penerapan model pembelajaran Group Investigation dengan Make a Match untuk meningkatkan aktivitas belajar siswa: Penelitian tindakan kelas pada mata pelajaran Pendidikan Agama Islam di Kelas V Sekolah Dasar Negeri Setiamanah Mandiri 1. UIN Sunan Gunung Djati Bandung.
Jacub, T. A., Marto, H., & Darwis, A. (2020). Model Pembelajaran Problem Based Learning Dalam Peningkatan Hasil Belajar IPS (Studi Penelitian Tindakan Kelas di SMP NEGERI 2 Tolitoli). Tolis Ilmiah: Jurnal Penelitian, 2(2).
Kurnia, Y. P., Sumarti, S. S., & Utomo, U. (2020). Implementation of Problem Based Learning Assisted with Science Comic Books to Improve Critical Thinking Skill of Elementary Students. Journal of Primary Education, 9(2), 186–192.
Kurniasari, E., Koeswanti, H. D., & Radia, E. H. (2019). Peningkatan Hasil Belajar Matematika Melalui Model Make A Match Berbantuan Media Konkret Kelas 4 SD. JTAM (Jurnal Teori Dan Aplikasi Matematika), 3(1), 40–45.
Rahmad, R. (2016). Kedudukan Ilmu Pengetahuan Sosial (IPS) pada Sekolah Dasar. Muallimuna: Jurnal Madrasah Ibtidaiyah, 2(1), 67–78.
Sinurat, S. E. (2020). Penerapan Model Cooperative Learning Tipe Numbered Head Together Dalam Pembelajaran Tema 7 Indahnya Keberagaman Negeriku di Sekolah Dasar (Penelitian Tindakan Kelas Pada Subtema 2 Pembelajaran 3-4 di Kelas IV dalam Tema Indahnya Keragaman di Negeriku Pada Salah Satu SD Negeri Pejuang V, Kecamatan Medan Satria, Kota Bekasi Tahun Ajaran 2019/2020). Universitas Pendidikan Indonesia.
Suriansyah, Aslamiah, S. dan N. (2014). STRATEGI PEMBELAJARAN. Rajawali Pers.
Surya, Y. F. (2018). Penerapan Model Numbered Head Together untuk Meningkatkan Hasil Belajar IPS Kelas IV SD. Jurnal Basicedu, 2(1), 135–139.
Yunianto, T., & Ulfah, J. (2021). Peningkatan Aktivitas Belajar melalui Strategi Numbered Head Together Berbantu Media Gambar pada Mata Pelajaran Pendidikan Agama Islam (PAI). MODELING: Jurnal Program Studi PGMI, 8(1), 64–74.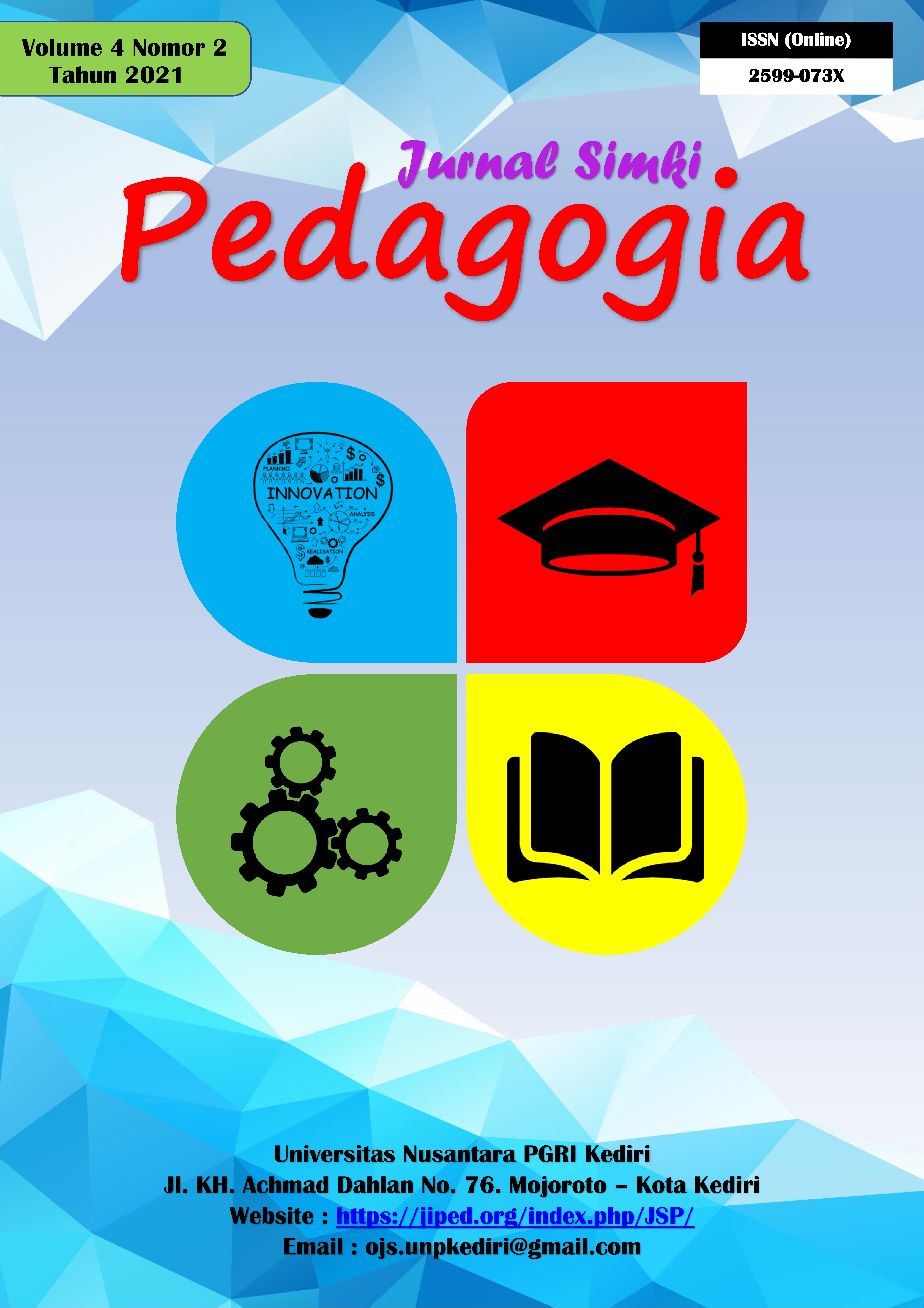 How to Cite
Saleh, M. (2021). Implementasi Kombinasi Model PBL, NHT, dan Make A Match untuk Meningkatkan Aktivitas dan Hasil Belajar Siswa pada Pembelajaran IPS . Jurnal Simki Pedagogia, 4(2), 198-210. https://doi.org/10.29407/jsp.v4i2.50
Copyright (c) 2021 Muhammad Saleh
This work is licensed under a Creative Commons Attribution 4.0 International License.

Jurnal Simki Pedagogia : https://jiped.org/index.php/JSP/index is licensed under a Creative Commons Attribution 4.0 International License.