Upaya Meningkatan Kinerja Melalui Supervisi Individual Terhadap Guru Sekolah Dasar Binaan Kecamatan Benua Lima Kabupaten Barito Timur
Samidi Samidi

Dinas Pendidikan Kabupaten Barito Timur
Abstract views:
19
,
PDF (Bahasa Indonesia) downloads:
10
Keywords:
Performance, Individual supervision
Abstract
This research is entitled Efforts to Improve Performance Through Individual Supervision of Fostered Elementary School Teachers, Benua Lima District, East Barito Regency. The method used in this research is Action Research which consists of 2 (two) cycles, and each cycle consists of: Planning, Implementation, Observation, and reflection. Based on the results of action research that Individual Supervision can improve the Performance of Primary School Teachers in Benua Lima District, East Barito Regency. Furthermore, the researcher recommends: (1) For school supervisors who experience the same difficulties, individual supervision can be used as a solution. (2) In order for the application of Individual Supervision to achieve maximum results, it is hoped that the School Supervisor will carry out Individual Supervision intensively and continuously.
Downloads
Download data is not yet available.
References
Arikunto, Suharsimi. 2013. Prosedur Penelitian: Pendekatan Praktik. Jakarta: Rineka Cipta
Bafadal, Ibrahim. 1992. Supervisi Pengajaran: Teori dan Aplikasinya dalam Membina Profesional Guru Sekolah. Jakarta: Bumi Aksara.
Departemen Pendidikan dan Kebudayaan. 1998. Alat Penilaian Kemampuan Guru Sekolah. Jakarta: Dirjen Pendidikan dasar dan Menengah.
Douglass, Hari. 1961. Democratic Supervision in Secindary School. Boston: Ginn and Company.
Fatah, N. 1996. Landasan Manajemen Pendidikan Bandung: Remaja Rosdakarya.
Hadikusumo, dkk. 1995. Pengantar Pendidikan. Semarang: IKIP Semarang Press
Hamalik, Oemar. 1992. Administrasi dan Supervisi Pengembangan Kurikulum. Bandung: CV. Mandar Maju.
Imron Ali. 1995. Pembinaan Guru Sekolah Di Indonesia. Malang: Pustaka Jaya.
Kemmis, S. and R McTaggart, 1988. Action Research - some ideas from The Action Research Planner, Third edition, ed. Deakin University.
Nurtain. 1989. Supervisi Pengajaran (Teori dan Prektek). Jakarta: Depdikbud, Dirjen Dikti –P2LPTK.
Pidarta, Made. 1992. Pemikiran Tentang Supervisi Pendidikan. Jakarta: Bina Aksara.
Purwanto, Ngalim. 1988. Administrasi dan Supervisi Pendidikan. Bandung: Remaja Rodakarya.
Sahertian, Piet. 1994. Profil Pendidik Profesional. Yogyakarta: Andi Offset.
Samana A. 1994. Profesionalisme KeGuru Sekolahan. Yogyakarta: Kanisius.
Undang-Undang RI Nomor 20. 2003. Sistem Pendidikan Nasional. Jakarta: Depdiknas.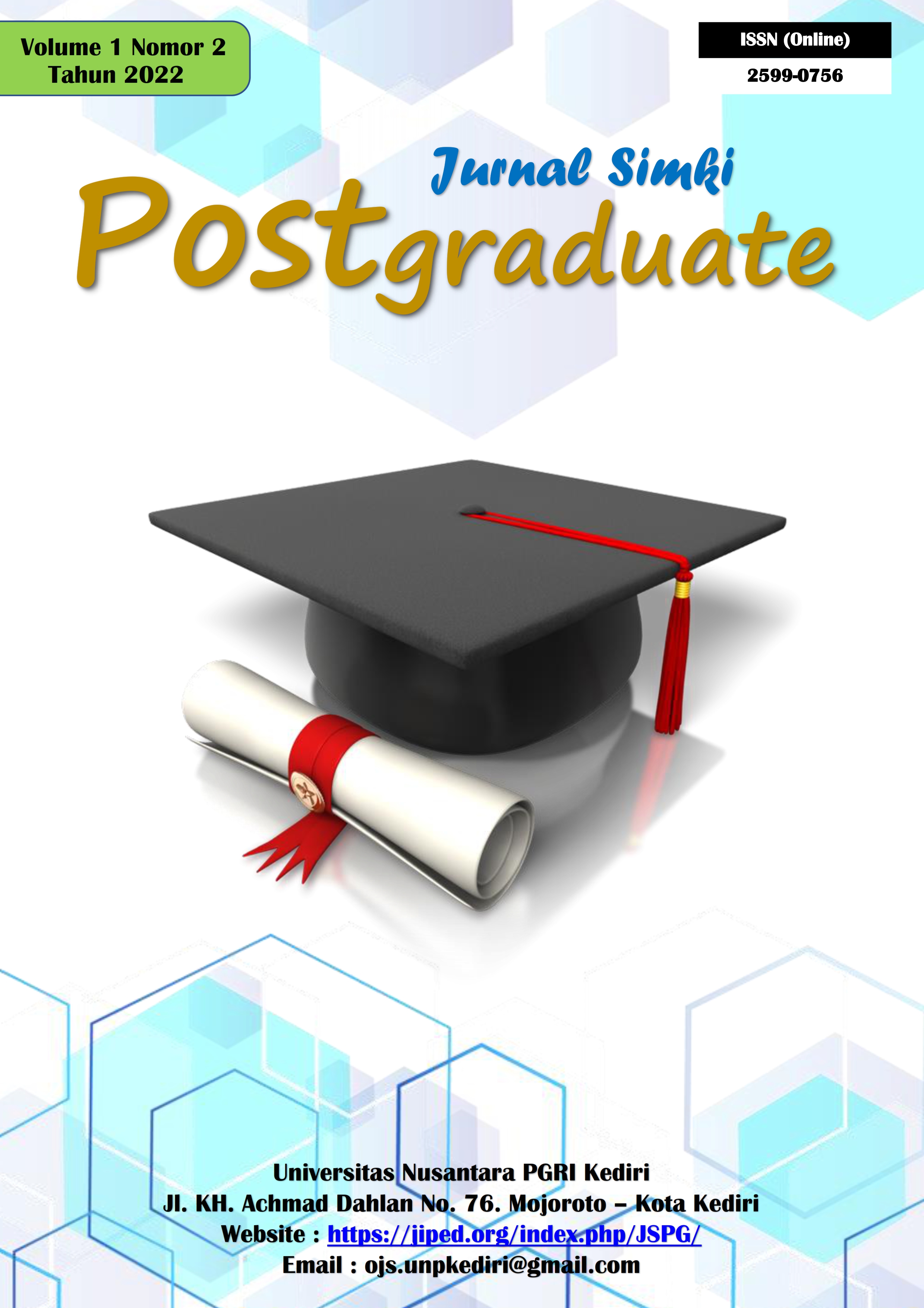 How to Cite
Samidi, S. (2022). Upaya Meningkatan Kinerja Melalui Supervisi Individual Terhadap Guru Sekolah Dasar Binaan Kecamatan Benua Lima Kabupaten Barito Timur. Jurnal Simki Postgraduate, 1(2), 16-20. https://doi.org/10.29407/jspg.v1i2.289
Copyright (c) 2022 Samidi
This work is licensed under a Creative Commons Attribution 4.0 International License.

Jurnal Simki Pedagogia : https://jiped.org/index.php/JSPG/index is licensed under a Creative Commons Attribution 4.0 International License.